BDA Managing Director Justine Mannering wins "40 Under 40" award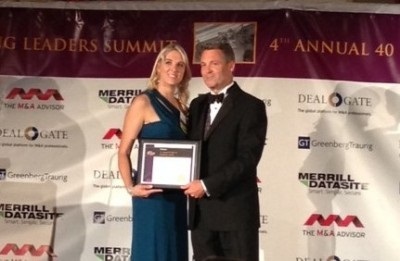 (PRLEAP.COM) BDA is pleased to announce that Justine Mannering, BDA Managing Director in New York, was named one of The M&A Advisor's 2013 "40 Under 40", for achieving significant success in the M&A industry while under the age of 40. Justine was chosen by an independent board of M&A professionals. She was selected for her professional and personal contributions to BDA, its clients, and the community.
Since joining BDA in 2011, Justine has advised on successful transactions across China, India, the US and Canada including:
Euan Rellie, Senior Managing Director of BDA, said: "Justine is playing a major role in building BDA's business, in the US and globally. She's become a significant fee generator for our firm, and a trusted advisor to our clients. We're proud that the industry continues to recognise Justine and our other bankers for their leadership".
Justine has experience on buy-side, sell-side, debt, restructurings and IPOs for private equity and corporate clients. She was previously in the Financial Sponsor Group at DC Advisory Partners / Close Brothers in London, where she worked from 2004-2011. Justine qualified as a Chartered Accountant (South Africa) with KPMG and is a CFA Charterholder. She is an Australian citizen, and graduated from Rhodes University in South Africa with a B Commerce in Accounting and Commercial Law.
About BDA
Business Development Asia LLC ("BDA") is a leader in cross-border investment banking in Asia. BDA advises on M&A, capital raising, and restructuring. BDA has been consistently owned and managed by the same team since 1996. BDA has a track record of providing independent advice to blue-chip corporate and financial sponsor clients from North America, Europe and Asia. BDA was named Investment Banking Firm of the Year by The M&A Advisor in both 2012 and 2010. BDA is headquartered in New York with offices in London, Bahrain, Mumbai, Ho Chi Minh City, Hong Kong, Shanghai, Beijing, Seoul and Tokyo. BDA formed a partnership with William Blair & Company in 2011.
www.bdallc.com
Email Business Development Asia LLC