Ganesh Machinery Announces Success of Recent Open House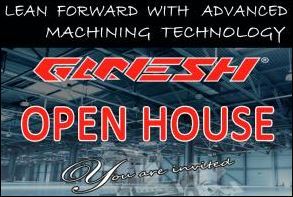 (
PRLEAP.COM
) Chatsworth, CA – Ganesh Machinery, the
popular machine tool industry leader
, has announced the overwhelming success of the recent Ganesh Open House 2013 event at their main facility in Chatsworth, California. The two day event took place late last month, and drew a much larger crowd than was initially anticipated. Attendees reportedly showed great interest and enthusiasm for the many award-winning products and services offered by the Southern Californian machine tool experts.
Ganesh Open House 2013 was designed to give visitors a special look at some of Ganesh's most powerful CNC milling and turning machines, including: high-speed milling, 5-axis milling, 50-taper heavy-cutting milling, 36-tool B-axis machine, Mitsubishi CNC controls, big-bore manual & CNC lathes, and more. In addition, the event was setup to show attendees live demonstrations of how the latest milling products can increase cost-effectiveness, simplify complex geometries, and successfully meet the needs of the modern machining shop.
Visitors poured in from across the United States and Canada. Notably, the open house also attracted attendees from Mexico, South America and India. The crowd's diversity is a testament to the increasing influence Ganesh Machinery has over both the national and international machine tool communities.
In the United States alone, Ganesh has experienced an annual growth rate of 12-15%, placing them in the top 10 of American machine tool brand names. They currently control approximately 2.1% of market share, with that number expected to rise significantly.
The Ganesh Open House 2013 event coincided with the recent expansion of their parts and service departments at their headquarters in the San Fernando Valley. To better meet demand, Ganesh added a new 15,000-foot machine preparation area for CNC high-speed turning and milling machine modifications. Guests were given a tour of the new facility and witnessed first-hand the actions of the dedicated team of engineering, training, sales, service, and office staff that have made Ganesh a trusted leader in the industry.
Ganesh is proud of the success of this year's open house event, and they look forward to continuing their mission to offer their customers advanced high-production machine tools, with outstanding after-sale service and more. Ganesh hosts their open house events every other year, with the next one slated for 2015.
About Ganesh Machinery:
Founded in March of 1985 with only a 1,200 sq. ft. facility, Ganesh Machinery has since grown into an industry powerhouse with a 15,000 sq. ft. facility, supported by a 40,000 sq. ft. warehouse. They are dedicated to excellent customer service with an emphasis on building and maintaining customer loyalty. They have sold and serviced machines to over 12,000 machine shops, technical schools, and more. They have a 4,000 sq. ft. showroom, fully stocked parts room, and an in-house training center. For more information, visit
http://www.ganeshmachinery.com/
or follow them on Facebook, Twitter, LinkedIn, YouTube, or Pinterest.
Email Ganesh Machinery, Inc.