MAC-MOD Analytical Announces the Power of Three Promotion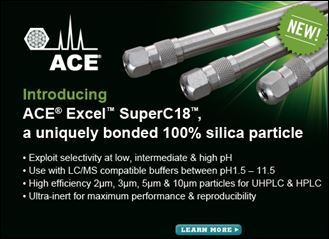 (PRLEAP.COM) Chadds Ford, PA – MAC-MOD Analytical, a leading
supplier of HPLC and UHPLC columns
, today announced a new promotion called, The Power of Three. During this special offer, clients can choose between a free iPad Mini and 33 percent off their entire order when they purchase the "power of three" – C18 column, C18-AR and C18-PFP or any other combination of three ACE Excel UHPLC and HPLC columns. Online shoppers can use reference code MM1472 to take advantage of this offer.
Collectively, these three phases empower you with unique selectivity for superior separations. By simply switching among these C18 column phases while keeping mobile phase constant, clients can significantly adjust selectivity to reduce method development time and cost.
Among the industry-leading HPLC columns clients can select for the Power of Three promotion MAC is the ACE EXCEL SuperC18™, a product that exceeds the company's high standards of performance and reproducibility in reversed-phase HPLC columns. Optimized for maximum efficiency, superior peak shape and resolution, the ACE Excel UHPLC products utilize the same ultra-high purity silica as all ACE phases.
Reliable, high-performance chromatography columns and competent, responsive technical support represent the core of MAC-MOD commitment to its clients. The company is knows for providing clients with only the best quality products from the most innovative and respected manufacturers in the business and is committed to providing competent, responsive support to the scientists who use these products.
For more information about the new ACE Excel UHPLC columns and to purchase the latest HPLC and UHPLC columns, visit
www.mac-mod.com
.
About MAC-MOD Analytical:
MAC-MOD Analytical specializes in providing HPLC and UHPLC columns to scientists who use this technology for applications as diverse as drug discovery, biotechnology and monitoring environmental contaminants. Since 1986, we have been providing separation scientists with reliable, high-performance chromatography columns and competent, responsive technical support. We represent some of the most innovative and respected column manufacturers in the business, including Advanced Chromatography Technologies (ACE columns), Advanced Materials Technology (HALO columns) and Bischoff Chromatography (ProntoSIL columns).
Email MAC-MOD Analytical, Inc.