Apple Visual Graphics Creates Gigantic Wall Mural of Stalin by Picasso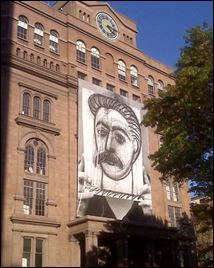 (
PRLEAP.COM
) Long Island City, NY - Exciting, controversial, simple, evocative and historic are among some of the words used to describe the gigantic rendition of "Stalin" or "Portrait of Woman with Mustache" by Picasso. Apple Visual Graphics used their
capabilities in large format digital printing
to create the image of the Former Premier of the Soviet Union as it was created by the well-known artist Picasso after his death in 1953. In spite of the simplicity of the image, the response to the wall mural has proven just how effective the use of large custom banners can be. While the first reason most businesses contact Apple Visual Graphics for their large format poster printing is for advertisement of products, services and events, they are also effective it evoking emotions through their connections to significant historic events.
The response to the gigantic wall mural at Cooper Union College has been varied. Getting noticed for any reason is the goal of wall murals and building wraps that are designed to be easily seen from significant distances. The size of this mural played a large role in getting so much attention, but that wasn't the only factor at play, the quality of equipment used in the project and the expertise of the staff at Apple Visual Graphics combined to produce the quality replication that can't be obtained from every company which offers digital printing services. Technology has improved over the years, resulting in high-tech equipment that has superior printing capabilities in regards to the quality of print and the ability to exponentially increase the size without the loos of quality that previous print methods produced.
Apple Visual Graphics uses only the finest equipment to produce products that are clear, durable and attention-getting. Among their significant products in the category of wide format printing they created a huge American Flag for Ground Zero. Their services include aisle signs, banners, bindery, bookmarks, building wraps, bus shelters, catalog printing and more. They strive to add a greater degree of artistry to their work, no matter what scale it is on.
About Apple Visual Graphics:
Apple Visual Graphics is located in New York City where they have attained 15 years of experience helping their clients develop their brands through a wide range of quality printing services with a fast turnaround. They have grown quickly, becoming the leading print provider of highly specialized offset, wide format, and digital printing and production services in the city. Their wide range of printing services and implementation of technology has helped to make them the most powerful and compelling print company in the area. They continually update their equipment and work with their clients to come up with ideas that are "outside the box" so that you get more impact from your printed products. For additional information please visit,
www.applevisualgraphics.com
.
Email Apple Visual Graphics