The American Photographic Artists Announces 2013 APA Awards Winners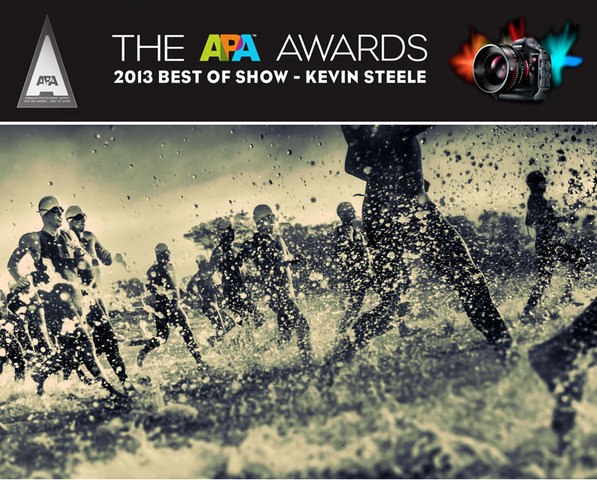 (PRLEAP.COM) The American Photographic Artists (APA) proudly announced the winners of the 2013 APA Awards on their website last week. Photographer Kevin Steele of Los Angeles won Best of Show in the photo competition.
"It was a great surprise and honor to be selected and placed among photographers I truly admire," said Steele. "Aside from the very awesome 4k Canon body, the attention from the Best of Show award will provide a nice boost to my outreach and marketing.
Award winning advertising photographer Kevin Steele shoots active lifestyle, travel and portraiture and is based in Los Angeles.
"The goal after all is to continue to create inspiring images with wonderful clients," said the artist who won a Canon Cinema EOS-1D C camera and will get worldwide exposure for winning the award. The winner will also receive free consultations concerning his work. "The included portfolio portals, the consulting and editing services and subscriptions will all be put to good use toward that goal."
American Photographic Artists' most exciting and prestigious annual event is open to photographers from around the world. Members and non-members alike are invited to submit their best work for an excellent chance at over $130,000 in prizes including photo equipment, software and professional business support.
31 winning images are chosen based on personal creative expression and technical excellence. Categories include Portrait, Action, Fine Art/Personal, Conceptual, Fashion, Landscape, Architecture, Still Life, Lifestyle/Wedding and Student.
"The APA Awards provide a wonderful opportunity to put forward striking imagery that showcases the exceptional talent of both respected and emerging artists," said Juliette Wolf-Robin, APA National Executive Director.
The public can view the 2013 Awards Winners' Gallery at the site of the contest host,
Dripbook here
.
BEST OF SHOW
Kevin Steele
PORTRAIT
1st Place - Art Streiber
2nd Place - Cameron Davidson
3rd Place - Kristofer Dan-Bergman
ACTION
1st Place - Nathan Abbott
2nd Place - Cassandra Plavoukos
3rd Place - Christopher Morris
LIFESTYLE
1st Place - Harold Lee Miller
2nd Place - Clinton Perry
3rd Place - Erik Almas
FINE ART / PERSONAL
1st Place - Craig Kempf
2nd Place - Eric Doggett
3rd Place - Karen Fuchs
LANDSCAPE
1st Place - George Kamper
2nd Place - Patrick McCarthy
3rd Place - Zoe Wetherall
CONCEPTUAL
1st Place - Andreas Franke
2nd Place - Alejandro Chavetta
3rd Place - Timothy Bailey
STILL LIFE
1st Place - Lupine Hammack
2nd Place - Rob Prideaux
3rd Place - Ben Kist
FASHION
1st Place - Rafael Astorga
2nd Place - Mark Leibowitz
3rd Place - Ruo Bing Li
ARCHITECTURE
1st Place - Emily Hagopian
2nd Place - John Muggenborg
3rd Place - Tim Griffith
STUDENT
1st Place - Kristina Varaksina
2nd Place - Maria Kanevskaya
3rd Place - Samantha Sneider
About American Photographic Artists (APA)
The American Photographic Artists
is a leading national organization run by and for professional photographers. With a culture that promotes a spirit of mutual cooperation, sharing and support, APA offers outstanding benefits, educational programs and essential business resources to help its members achieve their professional and artistic goals. Headquartered in Atlanta, Georgia with chapters in Atlanta, Los Angeles, the Midwest, New York, San Diego, San Francisco, Charlotte, Colorado, the Northwest, Washington, DC, and APA Editorial Photographers, APA strives to improve the environment for photographic artists and clear the pathways to success in the industry. Recognized for its broad industry reach, APA continues to expand benefits for its members and works to champion the rights of photographers and image-makers worldwide.
Email American Photographic Artists, APA National