MFour Conducts First-Ever Mobile-Only Political Strategy Poll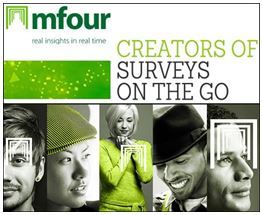 (
PRLEAP.COM
) MFour Mobile Research, in collaboration with Public Opinion Strategies, recently conducted the first mobile-only nationwide political strategy poll, providing more real-time, wide-ranging and in-depth information on American's opinion on various political issues and figures.
The
mobile research poll surveyed public opinion
with regard to a number of areas including issue priority, party images, bumper stickers, reaction to audio clips of recent speeches on immigration and reaction to images from a potential Hillary Clinton presidential campaign.
Employing mobile research technology for polling purposes will become increasingly important to obtaining accurate poll results as the technology becomes more widely adopted and it supplants traditional telecommunications technology, such as landline phones and desktop computers. Currently, 91 percent of Americans own a cell phone and 35.8 percent of Americans use their cell phone exclusively, eschewing landline telephones. In 2014, use of mobile devices to access the Internet will overtake that of traditional desktop computers. As the public shifts to tablets and smartphones, so must polling firms to get the most realistic sample of the American public.
Conducting the poll in the mobile medium provided MFour and Public Opinion Strategies to employ several new tools to solicit public opinion, options not available to polls using traditional landline phone calls as their primary information-gathering tool. Tools provided by mobile technology included:
Two-tap matrix questions that allow easy user navigation within a series of statements or messages.
Rank order displays that allow survey participants to quickly prioritize issues by using their touch screens.
Multi-way apportionment questions allowing participants to distribute up to 100 percent on select categories using a slider
Audio recording to capture direct quotes from participants
Picture capture allowing participants to take pictures and submit them to respond to questions.
Heat map selection which allows participants to view an image and select part of that image that catches their attention and write a comment about that item.
The survey was conducted from May 2-3 and interviewed 800 adults via mobile phones and tablets. MFour worked in partnership with Public Opinion Strategies, the No. 26 polling firm in the nation in terms of revenue, to conduct the poll.
As mobile devices become nearly ubiquitous in modern society, taking advantage of the polling opportunities offered by mobile research technology is an opportunity polling firms cannot afford to pass up. MFour and Public Opinion Strategies recent pioneering partnership in this area will be soon followed by the rest of the polling industry.
About MFour
MFour Mobile Research provides point-of-emotion surveys using the latest in mobile research technology, including surveys that include picture taking and video capture. Our research provides clients with accurate, timely information they can use to be more nimble in planning and executing company goals. For more detail please visit,
http://mfour.com/
.
Email MFour Mobile Research