Sharper Cards Offers $50 off Next Purchase with a New Customer Reference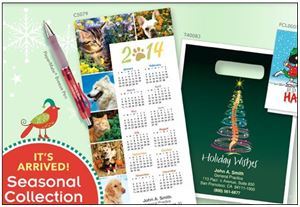 (PRLEAP.COM) Calgary, AB – It's good to have friends who can help save money, and now
Sharper Cards
lets customers share the benefits of direct marketing with their colleagues while also enjoy extra cost savings. Sharper Cards' customers who refer a friend or colleague will receive a $50 credit on their account when their referral places their first order; plus the new customer will receive $25 off their first purchase from Sharper Cards. The offer is unlimited, so the more people current customers refer, the more money they will save on their marketing materials.
To refer a friend, customers can simply visit sharpercards.com/referafriend and complete a quick referral form. Sharper Cards provides doctors, dentists, insurance brokers and other professional service providers with a fun and effective way to keep in touch with their patients or clients – and now, customers of Sharper Cards can share the benefits of direct marketing with their colleagues and save money.
Many long-time customers of Sharper Cards are excited to tell others in their industry about their success with direct marketing and now, the company rewards those who do just that. Sharper Cards already offers some of the most competitive prices of personalized direct mail pieces and with the additional $50 cost savings for referring a friend or colleague, happy customers can reach even more potential prospects.
To refer a friend or colleague and enjoy $50 off next purchase of personalized print marketing materials, visit
http://sharpercards.com/referral.php
.
About Sharper Cards:
Twenty-eight years ago there were few options available for patient and client communications. Sharper Cards was created with one purpose in mind - to provide professionals with quality patient and client communication cards that were both friendly and effective. Our first advertisement was a one page flyer with 12 card designs! Since then we have grown to a customer base of over 40,000 worldwide. We feature products like recall/reminder cards, birthday cards, appointment postcards, magnets, business cards, sympathy cards, holiday cards and more.