New Aquarium Opens 6km From Toronto Suites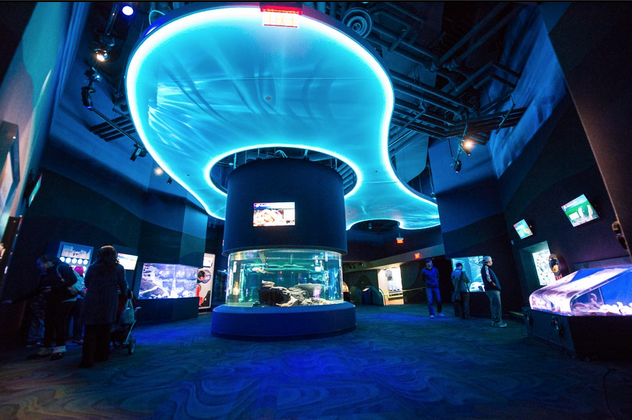 (
PRLEAP.COM
)
RIPLEY'S AQUARIUM OF CANADA
When visitors come to stay at our rental apartments in Toronto, they're often eager to get out and explore the various attractions that the city has to offer. As of October 16th, 2013, they'll have one more to add to their list: the new Ripley's Aquarium of Canada has just opened its doors right in the heart of Downtown Toronto.
The new multi-million dollar, 135,000 square foot complex is located between Front Street and Bremner Boulevard, just steps from the revitalized Toronto waterfront. The waterfront district has seen a fantastic revitalization over recent years, and the new aquarium only adds to its impressive array of attractions. This spectacular, state-of-the-art complex gives visitors the chance to come face to face with a diverse variety of exotic marine life from around the world, and has already proven to be a hot attraction for children and adults alike.
Ripley's Aquarium of Canada is situated at the base of the CN tower, and is just a short walk from the Rogers Centre, the Roundhouse Park, and the Union Station subway stop. Best of all, our close proximity to this fantastic new aquarium (just 6 km away) is just another reason why we are an unbeatable pick for Toronto rental apartments. If you plan on renting one of our luxury suites in Toronto, you won't want to miss out on this fantastic spectacle.
INSIDE THE AQUARIUM
Ripley's Aquarium of Canada features 450 species of aquatic creatures – housing, in total, over 16,000 marine animals! The state-of-the-art complex hosts fifty live exhibits, including 17 focusing specifically on aquatic animals native to Canada. The tanks are also equipped with over 100 interactive displays.
The aquarium has a number of dazzling aquatic installations. For starters, there's a 96-metre conveyer belt that takes you through an underwater section of the aquarium named "Dangerous Lagoon." The Lagoon features an impressive 180-degree view of the aquarium. This tank includes 17 sharks of various species.
If you'd like to catch a glimpse of some authentic Canadian swimmers, head over to the Canadian Waters Gallery, which hosts an impressive assortment of aquatic animals native to Canada. There's also the Rainbow Reef, which is packed to the gills with tropical fish and puts on an interactive dive show every other hour.
For a truly immersive look into ocean life, you can climb into the "shark reef crawl tunnel." This transparent tube allows you to climb right in the middle of the shark tank – that is, if you're brave enough to take the crawl. The aquarium also features a number of touch tanks, where you can reach in and feel aquatic creatures such as starfish and horseshoe crabs.
EASY ACCESS FROM TORONTO SUITES
The opening of this aquarium is just another chapter in the ongoing revitalization of the Toronto waterfront, which had for many years sat vacant and unused. Over the past decade, however, new construction and a slew of businesses have made it one of the hottest destinations in all of Toronto. Bremner Street (where the Aquarium entrance is located) has become a bustling hive of activity, and there's plenty to see in the surrounding blocks.
The aquarium is open from 9am to 9pm daily. General Admission to the aquarium is $29.98 for adults, $19.98 for youths (ages 6 to 13), and $9.98 for children (ages 3 to 5). Children under 2 get free admission. If you don't like to wait in line (and let's face it, who does?) you can purchase an online ticket in advance, which will grant you instant admission to the aquarium without any delays.
Ripley's Aquarium is yet another reason why modern Toronto is fast becoming one of the world's most exciting international cities. If you choose to stay in one of our rental apartments at the Toronto Suites, you'll never be more than minutes away from all the hottest attractions that the city has to offer.