BVA Scientific Now Carrying Edge Meters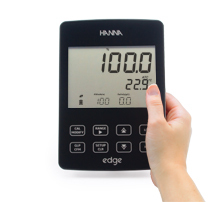 (
PRLEAP.COM
) SAN ANTONIO, TX –
BVA Scientific Incorporated
is now stocking Hanna Instruments' new Edge ® pH meters, an innovative new device that can also measure conductivity and dissolved oxygen.
The new Edge meters are thin and lightweight but still feature a large 5.5" LCD display visible up to five meters and 150°. It utilizes a capacitive touch keypad that is a part of the screen, which features a clear full text readout and easy scrolling options. The Edge's sensors are highly advanced, easy to plug in digital electrodes that record calibration information on a microchip that comes built in to the device. It can be paired with the included wall mount cradle or the benchtop cradle with adjustable swivel electrode holder.
BVA Scientific will now be carrying Hanna Instruments' Edge models HI 2020, HI 2030, and HI 2040, as well as pH meters from Oakton, Orion, and other top manufacturers. They also offer a wide variety of other equipment and supplies for the scientific and laboratory industries including thermometers, hydrometers, and ph buffers. They also have an extensive supply of oilfield supplies such as gaugers and trucking supplies that can be delivered within two days to Oklahoma and Texas and within four days to North Dakota fields.
To see all of the products and services offered by BVA Scientific, visit their website at
www.bvascientific.com
. You can also speak with a BVA representative directly by calling (210) 340-0032 in the San Antonio area or toll free (800) 257-6474 or by visiting their offices in person at 231 E. Nakoma, Suite 300, San Antonio, Texas, 78216.
About BVA Scientific
BVA Scientific has been providing supplies and equipment to the scientific and laboratory community for nearly 25 years. They are members of a number of professional organizations including the SCTRCA, HUB, DLA, ILDA, SAMA, LIDS Ecat, and more. Their staff has over 100 years of experience in the industry and is dedicated to providing the highest possible quality customer service.