Letternote Online Space has a Better Face Now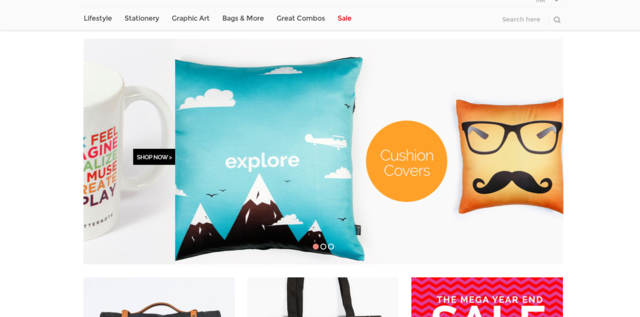 (
PRLEAP.COM
) New Delhi, December 31, 2013: Letternote, a
product design brand
based in New Delhi, India, has come out with a new online avatar – all fresh and updated. The brand wishes to start the new year with a fresh face and a lot of offerings to its loyal customers.
"Letternote has witnessed a tremendous growth in the last two years. What started out as an idea has now grown into a full scale brand with a nationwide presence. In the last two years, the brand has garnered a lot of appreciation and we wish to leave no stone unturned to take it several notches up", said Anisha Singh, co-founder of Letternote.
Letternote had started out as a single store outlet at Hauz Khas Village, New Delhi. In a short span of time, it has established its presence in about 80 retail stores across the country with three stand alone stores in Delhi-NCR. "The credit goes entirely to our customers who love, appreciate and share our creations with others. Without their support, all this wouldn't have been possible. In fact, our website could not handle the traffic load in between when Finn Harries, a celebrity vlogger had purchased one of our products and tweeted about it", recalls Anisha beaming with joy.
Letternote has an impressive list of clientele some of which are MTV, Vodafone, NIIT, Omega and GMR to name a few. "Our focus for the coming year is to expand our corporate portfolio and diversify our product range", says Gurpreet Singh, co-founder, who is all geared up for the coming year as he plans to massively upscale Letternote's product offerings.
The new website will have added functionality and features that would make user experience more engaging and socially interactive. Right now the site is a standalone ecommerce portal that houses Letternote's products exclusively. With the new interface kicking in, the site will not only host a whole new range of products but also serve as a platform for its patrons to appreciate and refer Letternote products to others. Now, you can enjoy visiting our site with more user friendly features. Visit us at
www.letternote.com
.
You can mail us at
info@LetterNote.com
or call at +91.9811349985.
Regular product updates and other information can also be accessed through the official
Facebook page
. Give us a chance to interact with you by following us on
Twitter
.
About letternote
Letternote is a product design brand based in New Delhi, India that designs and creates an eclectic range of simple, minimalist yet functional products. Letternote product range includes fine stationery, graphic art prints, bags, home/office decor and other lifestyle products.