Oz Lifting Products is Now Accepting Distributor Applications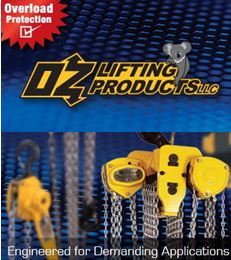 (PRLEAP.COM) Winona, MN -
OZ Lifting Products
, an aggressively growing and expanding manufacturer of industrial lifting equipment, is excited to announce that it is now accepting applications for new distributors. The company has matured and is ready to pursue growth with partners who like the idea of getting in on the ground floor with an up-and-coming provider of quality hoists and lifting gear.
Just a few years ago, OZ Lifting Products was wary about courting distributors because it needed to make sure it was in a position to deliver sufficient capacity. Fortunately, the company has gained valuable experience in the industry since its time in the early stages, and it's also moved into an impressive 15,000 square feet facility that can support vastly greater production. Now, OZ is poised to grow rapidly, and it's experiencing more and more calls coming from eager distributors looking to partner with the company.
OZ Lifting Products features a wide variety of excellent industrial lifting equipment, including the lever hoist, beam clamp, load chain, and more. According to a spokesperson for the company, "We are committed to providing safe, high quality, and affordable material handling equipment to our customers, with a dedication to excellent customer service and support." Its winning combination of great products and customer service is propelling OZ to new heights in the lifting products field.
About OZ Lifting Products
For a number of years, OZ Lifting Products has been growing its business as one of the leading chain hoist suppliers in the industry. With both headquarters and warehouses in Minnesota, the company is proud to sell products that successfully handled material on the world market, and it's enthused to be bringing them to the United States market. With world-class products and new distributors continuing to sign on, it's a great time to look into OZ for business opportunities. For additional information please visit,
www.ozliftingproducts.com
.
Email OZ Lifting Products LLC