Time Traveling Menu Commemorates Historic L.A. Aqueduct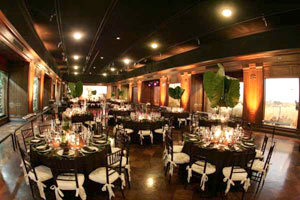 (PRLEAP.COM) The occasion is the dedication of the new L.A. Aqueduct at the Cascades in Sylmar, ushering in a century of growth and enabling the development of the city as we know it. On the very next day, the city opens its new Museum of History, Science, and Art-today's Natural History Museum (NHM).
Fast forward 100 years to "A Taste of History: A Watershed Moment." This themed 100th Anniversary Fellows Dinner, held in the museum's soaring rotunda on November 6, 2013, honored the simultaneous openings of the two great institutions.
LA Spice, an award-winning Los Angeles catering company and corporate event planner, created the event menu with the goal of transporting guests back in time, reflecting the tastes, menus and sensibilities of the day. Carefully reviewing choices with the event hosts at NHM, LA Spice crafted every aspect of the evening to reflect the theme's "moment in time."
Based on research into the original 1913 dedication event, as well as period cookbooks and menus from Los Angeles and recipes of the era, the caterer drew on archived menus from the NHM Library and even from the Titanic's first-class dining room (the ship sailed-and sank-in 1911, just two years before the LA Aqueduct opened).
Guests were reminded of their time-altered setting at every possible opportunity. Guests saw menu cards at each place and along buffet lines, well-informed staff explaining the finer points of special menu items, and period costumes on all wait staff.
Nothing recalls a place and time like the sensation of taste, and ultimately, the whole impact of this commemoration came down to the menu, which included such mouth-watering flavors as:
Lettuce Head and Onion Salad with Vintage French Dressing – a popular salad from 1913 vintage Los Angeles menus;
Beef Bourguignon – a classic French dish featuring braised beef with bacon lardons and button mushrooms (featured in an episode of period drama Downton Abbey);
Chicken Lyonnaise – a cream sauce blending tomato, garlic, onion, white wine; offered with creamed carrots flavored with cinnamon, nutmeg and chives (original recipes from the last meal served in first class on the Titanic);
Period cocktails featured on episodes of Downton Abbey, including:
-Pimm's Cup – made with Pimm's No. 1, ginger beer, cucumber and mint; and ——Abbigliamento Martini, made with Citron Vodka, white grape juice, basil leaves, mint leaves, elderflower cordial, lemon juice and lemon Zest.
About LA Spice Catering
LA Spice Catering was voted "Best Caterer" of Los Angeles by readers of The LA Daily News for 2010 and 2011. The company describes itself as "…the Spice of LA…," focused on events that take off from the best food and wine available. They design and produce events that combine themed, creative ideas with menu planning and clever entertainment, for intimate parties to large-scale weddings. Previous 1920s period-themed parties and menus have recreated the Mad Men television series, glamorous Old Hollywood, and 1920s Holiday Season. More information can be found on the website at
www.laspicecatering.com
.