SNA LLC Installs Highest Resolution LED Screen in Times Square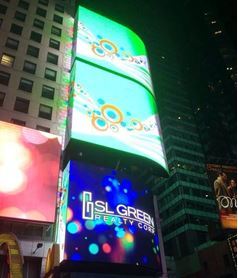 (PRLEAP.COM) BALLSTON LAKE, NY –
Custom LED lighting
solutions experts SNA, LLC have installed the highest resolution LED display in Times Square history.
The screen is located at 1552 Broadway, which is owned by Jeff Sutton and currently houses real estate giant SL Green Realty Corp. The record-setting display features nine million pixels spread out over 9,000 square feet, helping the screen stand out even in the crowded Times Square visual environment. The New York City landmark destination sees tens of millions of visitors every year, and as such the competition for advertising space is extremely intense, putting a premium on both display size and quality.
SNA has previous experience with the historic Times Square atmosphere, having previously installed a 4 million pixel screen at 1515 Broadway in 2012. They are known for creating innovative LED products that feature fully scalable, daisy-chained modules and offer a wide range of programming possibilities so that they can be easily adapted to any location or user's unique specifications. In addition to LED video displays SNA also designs and manufactures a wide range of other LED products such as transparent video, price changers, lighting, and more.
To see photos and videos of these and other past SNA projects, or to learn more about their other available products and services, visit their website
www.snallc.com
. They can also be found online via their Facebook and Twitter accounts or in person in one of their multiple US locations, or you can call their corporate offices toll free at (800) 521-4815.
About SNA, LLC
For over 20 years SNA, LLC has designed, manufactured, installed, and managed LED lighting, image, and video displays. Their corporate mission is to ethically provide premium quality products at fair prices while treating their customers, employees, and vendors like partners. In addition to their New York headquarters they have branches in Florida, Nevada, Ohio, Oklahoma, Tennessee, and Texas, and employ more than 400 engineers, all working toward developing innovative, reliable LED products. Their company motto is Henry Ford's inspirational quotation "coming together is a beginning, keeping together is progress, and working together is success."