Beyond Breakeven Inc. Shows Businesses How to Get 100 Percent Financing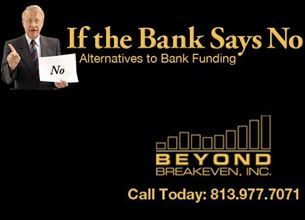 (PRLEAP.COM) Tampa, FL - Beyond Breakeven Inc. makes it possible for wannabe entrepreneurs to buy or start a small business with little to none of their own money. As was shown on the PBS television show, "Breakthroughs" with Martin Sheen, Beyond Breakeven's breakthrough funding strategies make it is possible to obtain 100% of the funding needed and do so with no collateral or down payment requirements.
One of the keys to successful borrowing is to first understand where to go, and what to ask for in the way of funding. Banks most often times take a one size fits all approach. That approach rarely works, because different elements of the project require different funding terms. Working capital requires different terms than equipment and equipment is different then leasehold improvements, etc. Also, the differences may be dramatic. While terms for real estate loans may be as long as thirty years, inventory funding would be more like thirty days.
In the show "Breakthroughs" the founder and CEO of Beyond Breakeven, Inc., Mr. Ed Keels, explains how the utilization of the appropriate types of loans or financial building blocks combined with a stacking of multiple building blocks, is a strategy that can completely fund most small business projects.
Surprisingly, this multiple funding source approach is the method that most entreprenures have always been forced to use to fund their projects, rather bank loans. In fact, banks have historically only funded seven percent of all business projects. This may be primarily because most projects and borrowers personally do not fit the stringent requirements that are the core of SBA and commercial bank loans.
Because getting there is only half the battle, Ed Keels started Beyond Breakeven, Inc. to help others who were told no by their bank, to not only obtain funding, but also to then run their business like a cash cow. Functioning as the dealmaker, Beyond Breakeven, Inc. assists in valuing business acquisitions, cash flow analysis, deal structuring, drafting offers and buyout contracts, establishment of the corporation, corporate credit, business plan, operating plan and funding plan. Lastly, company clients are taken to funding sources that work for their unique situation and without collateral or down payment cash from the client providing 100% or more of the project cost.
To learn more about Beyond Breakeven, Inc. and how they can help get 100% of the funding needed for a business acquisition or start-up, you can visit their website at
www.ifthebanksaysno.com
.
About Beyond Breakeven: Beyond Breakeven has found more than 100 ways to help entrepreneurs fund the start up or purchase of the business of their dreams. Businesses like restaurants, retail establishments, salons, auto repair businesses, sports bars and etc. Beyond Breakeven, Inc. has been helping entrepreneurs find suitable financing options to help them get their businesses up and running since 2003.
Email Beyond Breakeven, Inc.