Eclipse Awards Recognized For Green Efforts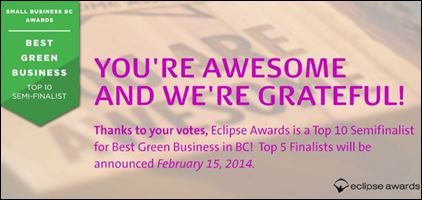 (PRLEAP.COM) January 8, 2014 - VANCOUVER, BC, CANADA - Recognition awards company Eclipse Awards has earned a distinction of its own as a top 10 finalist for
Best Green Business among small businesses in British Columbia
. The Small Business BC Awards, set to be held February 27, recognize the achievements of BC's small business entrepreneurs.
Eclipse Awards is being recognized for its commitment to sustainability and the environment. "We believe our impact on the environment, our contributions to our community, and our employees' health and happiness are as important as the services and awards we provide our customers," said Toby Barazzuol, company founder and president. Eclipse Awards has achieved several notable milestones which include building two green roofs, becoming a Living Wage employer, and becoming carbon neutral. The company offers incentives to employees who choose low-emission vehicles or public transportation for their work commute and recently concluded a five-year plan in 2013 that reduced its carbon dioxide (CO2) output by 20 percent.
In addition to its serious pursuit of green initiatives, the company also produces eco-friendly, green awards. Eclipse Awards has a line of eco-friendly awards made from local sustainable materials like recycled glass and salvaged wind-fallen trees. "The nomination for Best Green Business recognizes our ongoing commitment to sustainability," said Barazzuol. "Being recognized by popular vote as one of the 10 greenest companies in BC is an honour, and it adds extra value to the green awards that we produce for our clients."
Though specialized in handcrafted green awards, the company also produces crystal and glass awards. Being green isn't simply about the things you produce though. Barazzuol says "being green is also about regenerating the environment, building stronger communities and celebrating the human spirit."
Small Business BC Awards celebrates small business owners and their contributions to their communities as well as the global economy by recognizing businesses in nine categories – Premiere People's Choice, Best Company, Best Community Impact, Best Concept, Best Employer, Best Green Business, Best International Trade, Best Online Marketer, and Best Workplace.
Judges will narrow the Top 10 Finalists down to the Top 5 finalists by January 15, and from there finalists will present a pitch for their businesses in hopes of winning the category for Best Green Business. The winners of each category will be announced at an awards gala on February 27.
About Eclipse Awards:
For 15 years, Eclipse Awards has created recognition awards for the world's largest and most successful organizations. Dedicated to high quality and dependable service, Eclipse Awards provides personalized awards that range from practical to remarkable. For more detail, visit
www.eclipseawards.com
.
Email Eclipse Awards International Inc.