Got Stuff? Get Portable Storage from National Construction Rentals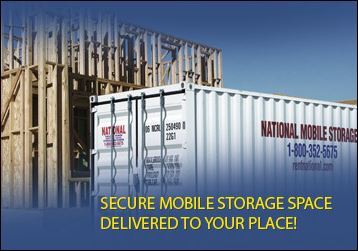 (PRLEAP.COM) January 8, 2014 - Mission Hills, CA - Keeping tools and equipment organized and secure are just some of the many critical aspects of an organized jobsite. National Construction Rentals offers a variety portable storage containers to help assist with this organization while protecting valuable equipment from theft and the elements.
With every construction project unique, National offers portable storage containers in many sizes, so additional room is never an issue. Whether it's 10, 20 or 40 feet in length, every unit offers the maximum in usable space - zero interior support posts to get in the way. With several different size options, it's a breeze to get the storage space you need for your next job.
Each of National's storage containers have been designed with your construction site in mind. Non-slip wood flooring helps protect workers when water, dirt and mud are tracked into the unit. Further, storing equipment couldn't be easier with ground-level access and double-door availability on our larger units.
Construction sites are busy places. A well organized plan that includes a secure storage unit is therefore essential, especially when workers leave for the day. Nobody wants to be on the losing end of thousands of dollars worth of stolen equipment. A hidden, reinforced security lock box helps deter theft while a weather-resistant steel roof and siding helps protect tools from inclement weather.
National's storage containers also allows for the ease of storing equipment on site. Every unit is simple to setup and can be moved from one area of a job site to another in a snap.
About National Construction Rentals
National Construction Rentals is the industry leader in providing nationwide distribution of temporary site services with exceptional service. Our products include chain-link fencing, barricades, portable toilets, temporary power and portable storage. For more information, please call 1-800-352-5675 or visit us on the web at
www.rentnational.com
.
Email National Construction Rentals Inc.