Author Harvey Kubernik, "It Was 50 Years Ago Today THE BEATLES Invade America and Hollywood" scheduled for "Jim Bohannon Show" interview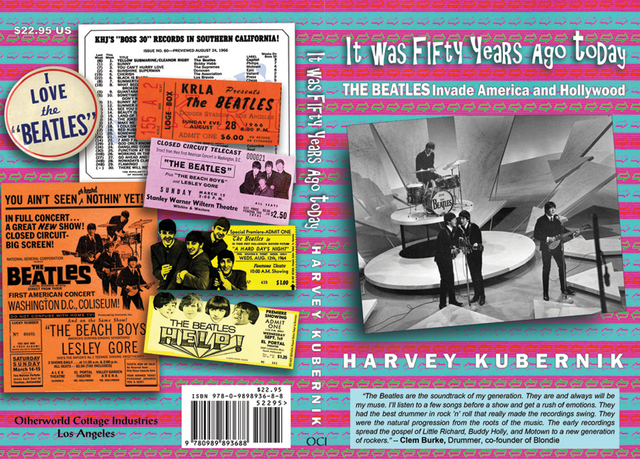 (PRLEAP.COM) Tomorrow night (January 23,2014), Jim Bohannon's guest will be author and music historian Harvey Kubernik, whose new book, "It was 50 Years Ago Today THE BEATLES Invade America and Hollywood" is due for release on the 1st of February.
"The Jim Bohannon Show" originates in Washington, D.C. and airs live each weeknight from 10 pm to 1 am Eastern Time and is heard on more than 500 stations across the nation. Jim talks to special guests and his loyal callers about a spectrum of topics ranging from current events and politics to entertainment and pop culture, Best of all, you can join the conversation by calling 1-866-50-JIMBO / 1-866-505-4626 during the broadcast.
As for his book, over the years, Harvey Kubernik met and talked with all four Beatles individually as well as Mal Evans, Derek Taylor and many of the engineers and producers that were in the recording studio with them.
And he interviewed songwriters, recording and mastering engineers, poets, musicians, graphic artists, philosophers, record producers, disc jockeys, authors, filmmakers, pen pals, photographers, record collectors and friends he knew to have been part of the Beatles history. So when he decided to write this book, Harvey called on his record industry contacts and celebrated musicians to share their memories and insights in fresh 2013 interviews, and began pulling together all the memorabilia, photos, press releases, emails, letters, recorded interviews, radio broadcaster's remarks and snippets he'd captured live at media events up to the present day – and then he started writing, compiling and creating.
The finished book is more than a compilation of photos, graphics, interviews and insights offered by more than 60 music industry notables, including members of the Rock and Roll Hall of Fame, it reveals the Beatles rarely chronicled-at-length history with Southern California and Hollywood.
"I involved the voices of East and West L.A., the San Fernando Valley, downtown L.A. and the beach community — all of us who first heard the Beatles in 1964," Harvey offers. "In addition, I incorporated heralded rock 'n' roll band members hailing from New York, New Jersey and Canada and wove their voices into my manuscript while also collaborating with Gary Strobl, curating and scanning the rare and unseen visual images and artifacts I unearthed that are displayed within the pages. It's a cool book."
For local times and stations, CLICK BELOW.
http://jimbohannonshow.com/stationfinder;jsessionid=D1D32843BFB3B131689E6D8C2136D8A2?programID=309
If you do miss the broadcast, you can catch the podcast or download an mp3 file of the Harvey Kubernik segment at
http://jimbohannonshow.com
and clicking on the drop-down menu item "audio archives."
"It Was 50 Years Ago Today THE BEATLES Invade America and Hollywood" ISBN 978-0-9898936-8-8, is a published in paperback by Otherworld Cottage Industries at $22.95.
From February to April 2014, the Foothill Records store at 1110-A, West Magnolia Blvd, Burbank, California, Phone: (818) 415-5012, will serve as the exclusive brick and mortar outlet for the book.
For out-of-area customers, Otherworld Cottage Industries is accepting pre-orders at
www.cdtdigital.com/otherworldcottageindustries/index.php
. Online customers will be notified when orders ship, on or about 1 February 2014. Allow up to ten days for orders shipped media mail to arrive.
Below you will find Harvey's updated bio (20 January 2014) which includes notice of guest curators Harvey Kubernik, Henry Diltz and Gary Strobl's development of a "Laurel Canyon Music Scene" exhibition opening on May 8th at the Los Angeles-based Grammy Museum.
For additional information or to request a review copy, email
travpike@morningstone.com
.
Email Otherworld Cottage Industries
Attachments