Jim Renner, Sponsored by Credibility International, Finishes Second at AT&T Pebble Beach National Pro-Am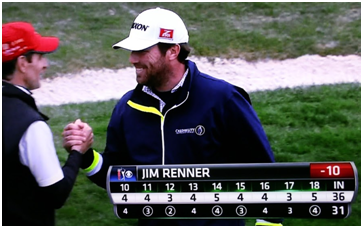 (
PRLEAP.COM
) Credibility International congratulates Jim Renner on his second place finish at the AT&T Pebble Beach National Pro-Am, and his victory in the Pro-Am with amateur partner John Harkey Jr.
"It was an outstanding tournament for Jim resulting in his best finish yet on the PGA Tour," said Tim Hart, the founder and president of Credibility. "It has been exciting for Credibility to grow with Jim since we began our sponsorship last April while Jim played the Web.com Tour and earned his PGA card. An important part of our relationship is the fundraising for the American Heart Association as Credibility donates money for every birdie Jim makes as well as contributions for top tournament finishes. To date, we have raised over $8,000 for the American Heart Association in memory of Jim's dad John "Buck" Renner. We look forward to following Jim as the PGA Tour season unfolds, and our work with Jim to help the efforts of the American Heart Association in the fight to defeat heart disease."
While in route to this week's PGA Tour event (Northern Trust Open in Los Angeles, CA), Jim said, "I am thankful for the association with Credibility for a number of reasons, most notably to raise funds for the American Heart Association in my Dad's memory. My Dad and I shared a great passion for the game of golf and his love and support helped me achieve my dream of playing on the PGA Tour. Raising money for the American Heart Association with the help of Credibility is a great way to honor my Dad's legacy."
About Credibility International
With expertise in
forensic accounting and finance
, Credibility International has professionals in Washington, Chicago and San Francisco who are CPAs, fraud examiners and valuation professionals. Tim Hart has once again been recognized this year by Who's Who Legal as one of the top expert witnesses in international arbitration. The Credibility team has native language capabilities in Russian and Spanish. For more information visit
http://www.credibilityinternational.com/
Email Credibility International