PTI Publishes a White Paper on Careers in the Marcellus Natural Gas Industry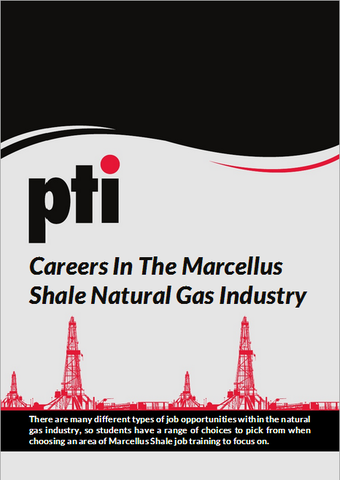 (PRLEAP.COM) The Marcellus Shale natural gas industry is growing exponentially now in Western Pennsylvania, and PTI, a Pittsburgh-based career technical institute, has several programs well suited for training students for skill-based careers in the growing field. Marcellus Shale is promising to be a lasting industry with the potential to carry young professionals through to retirement and provide satisfying jobs to career changers and military veterans. To help illustrate for prospective students how they can use their training experience to gain meaningful employment in Marcellus Shale, PTI created a white paper connecting practical careers in the oil and gas industry to some of its associate degree and certificate career training programs.
The white paper starts by outlining the status and recent growth of the Marcellus Shale industry in the Pittsburgh area. Projections indicate that the Marcellus Shale gas wells are estimated to produce for at least the next 40-50 years, which means a lifetime's worth of career opportunities for local professionals just starting in the industry, or generational employment.
The white paper then outlines five main career areas that students can begin training for immediately:
Welding & Pipefitting: pipe assembly, facilities and equipment maintenance, pipeline inspection
HVAC: maintaining the internal conditions of industrial plant facilities as well as specialized boilers, chillers, and ventilation units needed in refineries
Construction & Building Technology: development of local infrastructure and facilities
CAD Design: design and testing for pipe systems, valves, pumps, generators, and more
Oil & Gas Electronics: assembly, installation, and maintenance for all electrical systems used in natural gas facilities, including monitoring devices, field equipment, and computer-operated instruments
For more information about careers in the oil and gas industry and Marcellus Shale job training, read the full white paper:
http://www.pti.edu/campus-life/sidebar/white-paper-careers-in-the-marcellus-shale-natural-gas-industry
ABOUT PITTSBURGH TECHNICAL INSTITUTE
Pittsburgh Technical Institute (PTI) is a two-year career college with a 180-acre campus in North Fayette, west of Pittsburgh, PA, that has delivered career-focused education since 1946. PTI offers associate in science degree and certificate programs in areas such as Business, Criminal Justice, Design, Hospitality and Culinary Arts, Healthcare, Nursing, Information Technology, Trades Technology, and Energy and Electronics Technology. Experienced faculty provide students with practical skills for a number of in-demand fields including Architectural CAD and Mechanical CAD, HVAC technology, smart building technology, electronics, welding technology, computer networking, computer programming, accounting, travel and tourism, marketing, management and a variety of allied health care programs. Classes are offered on campus with day and evening options, through PTI Online, and through PTI's American Academy of Culinary Arts (AACA).
PTI is accredited by the Middle States Commission on Higher Education and designated a military friendly school. For more information about how you can apply your experiential learning skills to a hands-on career-focused education, contact PTI by calling 1-800-784-9675 or visit
http://www.pti.edu/
Email Pittsburgh Technical Institute/American Academy of Culinary Arts