Bonnie Bright Releases "Cellphoneitus"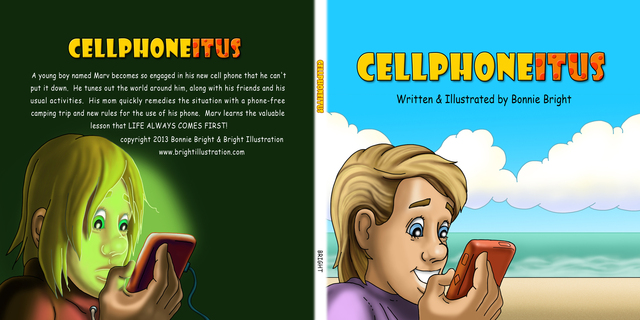 (PRLEAP.COM) Children's book illustrator and author, Bonnie Bright, has just released "Cellphoneitus," available now on Kindle and Amazon. This rhyming book is best suited for ages 4 to 12, but serves as a good reminder for adults too. Bright felt it was time to educate children about cell phone over-use and to remind them what the world around them has to offer. "A parent might initially purchase a phone for their child when worried about their child's safety. I get that because I did the same thing. But, once your child discovers texting, it's like they can never be away from that phone again. That's why I felt compelled to write this book," said Bright. The rhyming verse and humorous examples of "Cellphoneitus" will inspire your child to look up from that cell phone, notice the world around him or herself and get outside. "I didn't write this book to discourage cell phone use, but rather to help us all find a balance…to look up from that phone, " said Bright.
The book is about a 13-year-old boy named Marv, who gets his first cell phone as a birthday gift. He quickly becomes obsessed with it. Unaware of his surroundings as he stares at his phone, he gets into trouble and unintentionally pushes away his friends. But, his friends and family eventually help him find balance between his cell phone and real life. A camping trip with his mother helps Marv reopen his eyes to the world around him as he learns the important lesson that LIFE ALWAYS COMES FIRST.
Bright felt it was time to address the ever-worsening effect cell phones are having on our youth after watching a teen j-walk across a busy street while staring at his phone. "I feel secure having my cell phone for important communications and emergencies. But, mustn't forget that we can upgrade and replace our cell phones any time. Let's just be careful not to replace human interaction," said Bright.
Bonnie Bright is a published illustrator and author. Some of her works include "The Tangle Tower" , "I Love You All the Time" , "Surf Angel" , "Jenny's Pets" and "Junky Joe's Dump." Bright also has an extensive background in the games industry, working as an art director, background artist, texture artist and animator for Knowledge Adventure/Vivendi Universal's Jump Start and for game studios like Virgin and Angel Studios.
Please visit
www.brightillustration.com
to view images from the book, or order it at the following locations:
Download it on Kindle:
http://astore.amazon.com/brightillust-20/detail/B00H4HPZHU
Order the Paperback:
https://www.createspace.com/4518317
Retail Stores may purchase the book directly from
Createspace.com
.
Email Bright Illustration