Atlas Butler Installs New LED Display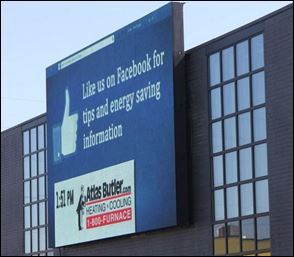 (PRLEAP.COM) COLUMBUS, OH –– Atlas Butler Heating & Cooling recently installed a large video display on the side of its new building facing Interstate 71. The LED video display was manufactured and supplied by S|N|A.
Atlas Butler has roots back to the 1800s to The Ramey Manufacturing Company. In 1997, Atlas Butler received the Small Business of the Year award for Ohio and was invited to the White House for a reception.
The Atlas Butler LED project features a high-resolution 16 mm pitch S|Video™ display. The wall-mounted LED sign is 13'5" tall by 25'3" wide. The total resolution of the LED display is 255 x 480 pixels, which accounts for a total of more than 122,000 pixels.
S|N|A utilizes an open-ended software system and can work with any front-end software package. In this case, the customer preferred to use Scala, one of the largest digital signage software programs globally.
For photos of the Atlas Butler LED video display project please visit
www.snallc.com/projects/atlas-butler
. You can find more information about S|N|A and S|Video™ products at
www.snallc.com
.
S|N|A, LLC is a turn-key provider of LED digital displays and lighting solutions. S|N|A has managed, fabricated, implemented and installed some of the U.S.'s largest spectacular signs while offering its clients a single source for both indoor and outdoor lighting, text, graphic, and video products. S|N|A relies on more than 300 engineers dedicated to research and development and utilizes one million square feet of space for manufacturing, administrative support and customer service. Sansi has offices throughout North America, including its corporate headquarters in Ballston Lake, NY, satellite offices in New York City, Dallas, Austin, Columbus and Knoxville, as well as administration and manufacturing space in Oklahoma City and Shanghai. For more information about S|N|A call 800.521.4815. You can also follow S|N|A on Facebook, Twitter, LinkedIn and Google+.