Fab Glass and Mirror Now Offering Colored Glass Shelving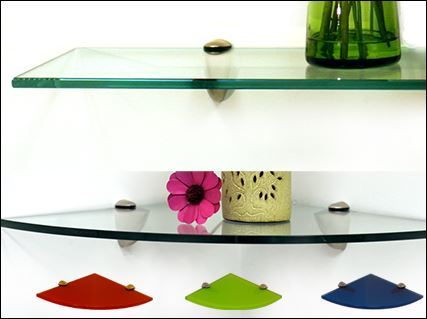 (PRLEAP.COM) Columbus, OH – The combination of bold color and high functionality make the colored glass shelves from Fab Glass and Mirror the ideal decorating tool. Choose the color that coordinates with your room's décor, or go with something bold that really stands out, to highlight an accent piece or bring attention to the desired area. You can also coordinate your floating rectangular or corner shelves with the glass table tops for a unified theme. Fab Glass and Mirror also sells the glass shelf brackets you need to secure the rectangular or corner shelving while continuing with the elegant, decorative touch. Add depth, charm and interest to any area of any room and increase your storage space at the same time.
In addition to their beautiful selection of colored glass shelving, Fab Glass and Mirror also offers a wide assortment of colored glass table tops in round, square or rectangular shapes in an assortment of colors and sizes. You can also use a glass table top replacement to add color to an existing table. The company is an industry leader which specializes in manufacturing and distribution of glass and mirror products, offering customers the highest quality glass products they need to complement any décor.
Fab Glass and Mirror is one of the fastest growing companies of its kind. To learn more about their products and policies, visit their website at
www.fabglassandmirror.com
. You can also request a quote for the products that you have in mind. Contact the company by calling toll free, 1-888-474-2221. You can also take advantage of their
special offers and coupons
. The company's selection of glass shelves and glass table tops are also available at wholesale/special pricing.
About Fab Glass and Mirror
Fab Glass and Mirror is one of the fastest growing companies specializing in manufacturing and distribution of mirrors and glass products. They are an industry leader that offers the finest glass products and related services to consumers, businesses, distributors and contractors. Their headquarters is located in Columbus, Ohio.
Email Fab Glass and Mirror