Tulsa Welding School Publishes White Paper on Careers in the Skilled Trades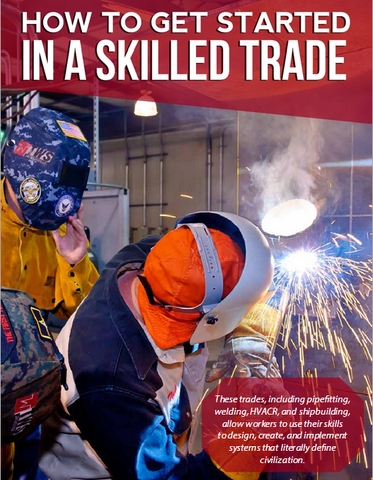 (PRLEAP.COM) Tulsa Welding School has released a white paper explaining to prospective students what they can expect from a career in the skilled trades as well as how they can get started in the industry through trade schools. Although fewer students are now being exposed to skilled trades work (decreasing in part through fewer high school shop classes), the overwhelming majority of students who are introduced to some type of skilled trade would consider a future career as a tradesman. Moreover, the still high demand for these workers offers graduates the chance to enter into stable, life-long careers.
The white paper is intended to provide an overview of skilled trade jobs, such as pipefitters, welders,HVACR technicians, and ship builders. It outlines some of the skills and characteristics needed to perform work in the skilled trades as well as what students can do to prepare for these careers. For students who have no prior training or experience in construction or metalworking, skilled trades programs can be a valuable resource to learn about the tools and talents required of today's workers. Different skills will be required in different fields, and skilled trades programs instruct students in the most in-demand skills for their chosen career.
Follow this link to read more about starting a career in the skilled trades as well as the specific skills taught in pipefitting, HVAC, and welding training programs:
http://www.weldingschool.com/articles/white-paper-how-to-get-started-in-a-skilled-trade/
Tulsa Welding School (TWS) has campuses in Tulsa, Oklahoma and Jacksonville, Florida. Programs vary by campus. TWS Tulsa offers training in Professional Welding, Pipefitting, and an Associate of Occupational Studies. TWS Jacksonville offers training in Welding, Electro-Mechanical Technologies (HVAC/R) and Shipfitting and Steel Fabrication.
Accredited School, ACCSC. TWS-Jacksonville is a branch campus of Tulsa Welding School, located at 2545 E. 11th St., Tulsa, OK 74104. Tulsa, OK campus is licensed by OBPVS and ASBPCE. Jacksonville, FL campus is licensed by the Florida Commission for Independent Education, License No. 2331. Licensed by the Mississippi Commission on Proprietary School and College Registration, License No. C-668. For more information about our graduation rates, the median debt of students who complete our programs, and other important information, please visit our website at:
http://www.weldingschool.com/student-resources/regulatory-information/
.
Email Tulsa Welding School