Winter Park Oral & Maxillofacial Surgery & Dental Implant Center Offers the All-on-4® Treatment Concept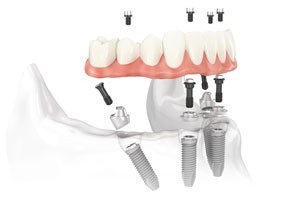 (
PRLEAP.COM
) April 22,2014 - The Winter Park Oral & Maxillofacial Surgery & Dental Implant Center now offers one-day dental implants, through a revolutionary procedure called the All-on-4® treatment concept that allows patients to walk into the office with bad teeth and walk out the same day with functioning teeth and a stunning new smile.
The All-on-4® treatment concept
, which is also called immediate implant loading and goes by several other trade names, was conceived in the 1990s and since long range studies have confirmed its success over time, it has gained widespread use in recent years as the surgical and restorative techniques have been perfected.
Same-day implants can be performed on patients who need replacement of all of their teeth in a dental arch. The technique allows for patients to have all of their failing teeth extracted and replaced in one day with a full arch prosthesis that replaces all of their teeth in that arch, and it also works well on patients who already have missing teeth and extensive bone loss often without the need for bone grafting procedures.
In cases of bone loss, the implants are placed in the jawbone at carefully planned angles for greater stability. Using computer-guided planning for the highest levels of accuracy, Dr. Tillery or Dr. Terezides place the implants in the least invasive manner possible to minimize postoperative swelling and complications for immediate functionality of the replacement teeth.
Not everyone is a candidate, so careful planning ahead of the procedure, which includes X-rays, CT scans and a consultation with your restorative dentist is required.
"Conventional dental implants require several procedures and a healing process of three to six months," stated Dr. Don Tillery, the lead oral surgeon at the Winter Park Oral & Maxillofacial Surgery & Dental Implant Center. "With the All-on-4® treatment concept, I can dramatically improve the patient's quality of life in just a few hours and give them a brand new smile that can last a lifetime."
About Winter Park Oral & Maxillofacial Surgery
Dr. Don Tillery is a second-generation oral surgeon who has earned many loyal patients during his more than 25 years of practice in Central Florida. In addition to dental implants, Dr. Tillery and his practice partner Dr. Andonis Terezides offer the full spectrum of oral surgery services, including wisdom teeth extraction, IV Sedation, corrective jaw surgery, facial reconstructive surgery, and treatment of facial traumatic injuries. For more information about Winter Park Oral & Maxillofacial Surgery & Dental Implant Center, visit
http://www.wporalsurgery.com/index.aspx
Email Winter Park Oral & Maxillofacial Surgery & Dental Implant Center