JBI Studios Offers Foreign Language Subtitling and Captioning Services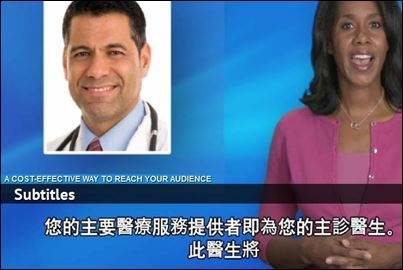 (PRLEAP.COM) May 1, 2014 - JBI Studios offers foreign language subtitling and captioning services for films, videos, screencasts and multimedia presentations, allowing companies to deliver the messages contained within their presentations to a wider audience across the globe.
Subtitling and captioning are alternatives to voice-over and dubbing that convey the same message in a different language, while leaving the original voice of the recorded piece untouched.
Many companies choose subtitling and captioning over voice-over and dubbing because subtitling and captioning are often more affordable. These solutions also make implementing editorial script changes easier and more cost-effective by eliminating the need to re-hire the voice actor to record any changes. However, if the video contains a substantial amount of visual information (for instance, a product demonstration or software presentation), voice-over or dubbing would be recommended over subtitles or captions, in order for the viewer to focus on the important on-screen instructions and visuals.
JBI Studios offers subtitling and captioning services in a variety of languages. JBI's trained technicians work with all kinds of languages, from ancient Greek to Tagalog, and the services accommodate any alphabet and text direction, including right-to-left support for Middle Eastern languages.
A large number of processes go into providing captions and subtitles beyond accurate translation within character limitations and choosing the correct font and font size. JBI Studios coordinates all of these components and more to provide foreign language subtitling and captioning services that give a new voice to videos and film. More information can be found at our company website,
http://www.jbistudios.com/.
About JBI Studios
JBI Studios is a Los Angeles-based provider of foreign language services. The company offers voice-over, dubbing, subtitling, captioning, multimedia localization and more. As a leader in the field, JBI Studios has worked with a host of different industries to provide native voices for videos, films, and presentations all around the world.