There's a New Sleep Expert in Town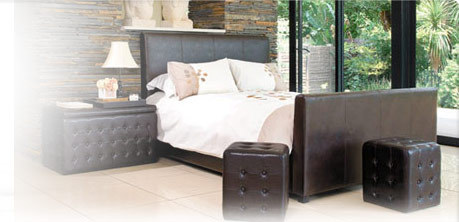 (PRLEAP.COM) May 19, 2014 - Johannesburg, South Africa – Humankind may have evolved immensely since the Paleolithic days, but one thing that has not changed is the human need for sleep. Beds and bedrooms have taken a sharp turn from hay stuffed into animal-hide sacks amongst the rocks to impressive remote-controlled mattresses and colour-coded furniture, but sleep still remains one of the staples of our lives. Every individual has very different needs in the sleep department. Some prefer to close their eyes briefly, while others can't seem to function without at least ten hours of rest. There are those who prefer a hard mattress and their counterparts who simply can't get to sleep unless they're sunk deeply into a feather-soft mattress.
Dial-a-Bed Bedroom Solutions finally has the answer to every individual's sleep needs, and they're revolutionizing the way we sleep, one bed at a time. With a megastore opening soon in Bryanston, the brand is hoping to set a new standard in sleep solutions and become a pinnacle in its industry by providing
high-quality, premium bedroom furniture
tailor-made to suit the needs of every individual.
How are they going to do that? It's not an aimless effort that has Dial-a-Bed Bedroom Solutions opening what is set to be a trailblazer in bedroom furniture industry. In fact, it is through the careful study of the evolution of sleep, and the help of experts such as Dr. Karine Scheuermaier, the Head of the Sleep Laboratory at the Wits School of Physiology, that the brand is confident they can really help South Africans on a never-seen-before level.
Dr. Scheuermaier has been working in the field of sleep for a number of years, debuting when she emerged from medical school. Since her initial work in the field of clinical haemato-immunology with a focus on acute and chronic sleep deprivation, she has branched out her studies immensely and currently holds a Masters in Medical Sciences from Harvard Medical School, an achievement that is undeniably impressive.
As the Head of the Wits Sleep Laboratory (since 2011), Dr. Scheuermaier has performed, and assisted with, intensive studies in the arena, with special focus on the South African lifestyle. With HIV, hypertension and sleep disruptions in pregnancy holding just a few places of honour in her wealth of studies, she is the perfect candidate to advise on how to build individualized sleep solutions for South Africans.
With Dr. Scheuermaier's advice, and the input of many other experts in the field, the store opened on 15 April 2014 and focuses on providing the best bed brands suited to individuals, to ensure the best sleep possible. Dial-a-Bed Bedroom Solutions is aiming high with its goal of getting a good night's sleep for every South African.
For more information please refer to Sarika Heera on +27 10 201 2552.
About Dial-a-Bed
Dial-a-Bed
is committed to providing customer satisfaction and stock a range of quality beds and mattresses at great prices. As South Africa's leading specialist bedding company, Dial-a-Bed prides itself on their extensive selection of the best brands at the best prices. Additionally, Dial-a-Bed also offers bed accessories like pillows and mattress protectors. Buying a new mattress or bed online has never been this simple and easy.