Debt Collectors Continue To Push the Limits of the Law Says Pioneer Law Firm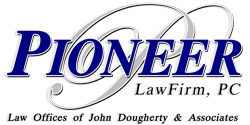 (PRLEAP.COM)
Westminster, Colorado – May 29, 2014
– Pioneer Law (
PioneerLawFirm.com
) a Colorado firm providing bankruptcy, FDCPA, real estate, and business law services, says that third-party debt collection is a problem that is spiraling out of control. Improper and illegal collection practices are well-documented, even those performed on behalf of the Federal government. Fines on individual collection agencies can total in the millions, based on the hundreds of thousands of complaints that have been received by government agencies. As consumer debt has grown, so has the debt collection industry; however the lack of accountability in the industry is bringing alarm and calls for reform.
In 2013, The Federal Trade Commission (FTC) received over 200,000 complaints about debt collection, eclipsed only by complaints about identity theft. Third-party debt collection has grown aggressively in past decades. And as the industry has grown, so has its impact on the public. According to the
Center for Responsible Lending
, more than one in seven adults is being pursued by debt collectors for amounts averaging $1,500.
As credit card companies, medical providers, utility companies, and other creditors write down billions of dollars in uncollected loans, the debt is sold to third-party collection companies. These companies purchase the debt for as little as a few cents on the dollar, and then try to profit by hounding debtors. Often the lenders will misrepresent the amount or the legal status of the debt, harass consumers, or make unlawful threats. In some cases they take consumers to court without properly serving them notice. When the debtors don't appear in court, they are hit with wage judgments and wage garnishments.
A recent report by the Consumer Financial Protection Bureau (CFPB) indicates that
over half of all collections
on credit reports are associated with medical bills reported by third-party collection agencies. Complaints to the CFPB show many consumers aren't aware they have a medical debt until they discover the debt on their credit report or receive a collections call. The issue has become so severe that the US Senate has
introduced a bill
requiring credit bureaus to delete delinquent medical debt within 45 days of being resolved.
The problem with third-party collections has extended even to government agencies. The Department of Education (ED) paid private debt collectors $1 billion in 2011 to collect on the $70+ billion outstanding in student loans. Consumer advocates have learned that the debt collectors commonly broke consumer protection laws when collecting on these student loans - a
claim that the GAO confirmed
, then verified the ED had little oversight or correction for the practices. Calls for investigation by watchdog groups have gone unheeded, resulting in a
recent lawsuit
against the ED under the Freedom of Information Act to release documents about the contracts and misdeeds.
"Debt collectors have long been a concern, but laws like the Fair Debt Collection Act (FDCPA) are meant to reign in their behavior. But without any real accountability in the industry, collectors still push the limits of decency and break Federal laws," says John Dougherty, Founding Attorney at Pioneer. "Most people want to pay their debts and fall behind by accident or by circumstances outside their control. The problem begins when debt collectors take advantage of the situation and push consumers beyond what is reasonable. Because of the prevalence of dishonest and abusive behavior, the industry is again under scrutiny with advocates calling for a crackdown or more government oversight."
About Pioneer Law
Pioneer Law is a legal firm specializing in Bankruptcy, Business Litigation, FDCPA, and Real Estate law. For those paralyzed by debt, disputing with a business, troubled by a collector, or involved in the sale of real estate, the specialists at Pioneer Law are prepared to advise, represent, and give peace of mind. For more information visit
PioneerLawFirm.com
.