World's Top Comic Conference Appoints Gamemasters™ to Success Story Panel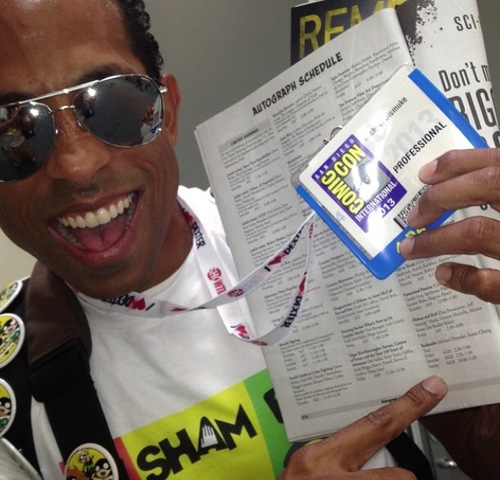 (PRLEAP.COM) June 16, 2014 - Last year, Michael Dismuke, a man whose successful kickstarter concept for Gamemasters™ thrust him onto center stage as a San Diego Comic Con exhibitor, is now this year's San Diego Comic Con Comic Creator Connection Success Story.
Dismuke has been selected as panelist to the Comic Creator Connection Success Stories panel at
Comic-Con International 2014 in San Diego
. Moderated by Doug Neff and Corey Rothermel, the panel which helps comic writers and artists meet, speak, and connect on concepts and abilities, will be held on Thursday, July 24th at 11:00am (Room: 32AB) during San Diego Comic Con (held July 24-27 at the San Diego Convention Center).
Dismuke will offer his story on how he took his idea for Roshambo, an official name for schoolyard decisions, Rock-Paper-Scissors, became a hero comic and established his Gamemasters™ property.
When Dismuke arrives in San Diego next month, he'll have the first two published issues of Roshambo comic book, a new Roshambo graphic novel, and just completed his company debut at the
2014 International Licensing Expo
, the premier trade show where the worlds' most influential properties, characters and brands meet with consumer goods makers and entertainment partners to accomplish global merchandising and marketing deals.
Gamemasters quickly gained an underground following in the comic world and is now rising to more mainstream consciousness. The company now offers both of its Roshambo Issue
#1
and
#2
as free downloads and a legion of Gamemasters fans interaction through the company's social media sites (
Facebook
,
Twitter
,
Instagram
and
Pinterest
).
About Gamemasters:
Created and written by Dismuke, Gamemasters has been called "a cross between Calvin & Hobbes and the Colbert Report." The comic illustrated by Susan Tsui, is about three children who are gifted with super powers by a god-like alien named Roshambo and discover that the seemingly simple game known as Rock-Paper-Scissors is, in actuality, the most perfect form of justice in the galaxy. The comedic trio must pit their newfound powers against a host of new villains who are masters of schoolyard gags and games like Hopscotch, Freezetag, Red Rover, the Thumb Wrestler, Leapfrog, Tic Tac Toe, and more. For further information, visit the company website and to interact with the company directly join the social media links on
Facebook
,
Twitter
,
Instagram
and
Pinterest
Social media for Comic Con San Diego is available at
Facebook
,
Twitter
and
You Tube
For licensing information contact:
Gamemasters, 28967 Nottingham Road, Hayward, CA 94544
T: 415.307.1243;
licensing@gamemasterscomic.com
;
http://www.gamemasterscomic.com