Character Actress Renée Victor Continues to Captivate Critics and Audiences with Outstanding Character Portrayals of Vivid Range and Depth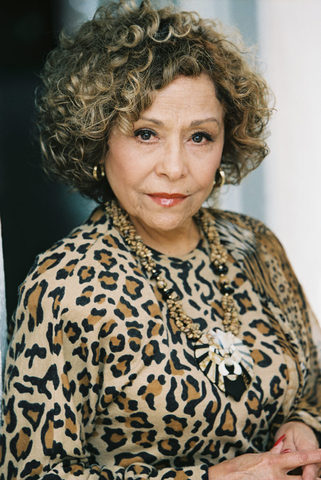 (PRLEAP.COM) June 25, 2014 - Renée Victor is best known as the spirited Lupita in Showtime's eight-season hit series "Weeds." This multi-lingual, multi-talented actress's career is once again eliciting well-deserved notices and comments on a variety of recent roles ranging from a brothel madame to a lovable grandmother; from an assertive, grieving grandmother of a murdered grandson, to a jitterbugging dancer, and finally, an amorous artist trapped in a love triangle.
On top of this recent spate of dissimilar roles, the Texas native was thrilled at an invitation to be Guest of Honor at a red carpet gala in Brownsville Texas. The event was organized by the Drama Department of the University of Texas at Brownsville for her work as Nellie, the madame in "A Night in Old Mexico," her third film with Robert Duvall and directed by Emilio Aragon. Reluctantly, Victor had to decline because she was jitterbugging across the screen in a forthcoming commercial for Fluzone. So she "went" via Skype and had a ball.
Earlier in the month Victor had received accolades for her role in "Entanglement," the short indie film directed by Douglas Wood. Film was screened at Hollywood's Chinese Theater as an entry in the Dances with Films Festival. In this complex romantic triangle, Victor portrays the elegant Vera, a retired artist pursued by a fellow retiree, but instead becomes involved with his son. She describes her role as a "compassionate cougar" with a sly twinkle.
Victor also received excellent reviews in a contrasting role as the lovable grandmother Irma in "Paranormal Activity 5: The Marked Ones," now available on Blu-Ray. The wildly popular franchise, written and directed by Christopher Landon, is a first-time all-Latino cast who speaks English while Victor's Irma speaks only Spanish. Once again this performance displays her linguistic chops and improvisation skills, sashaying through the film in a performance requiring no subtitles for non-Spanish audiences.
If you didn't catch her on TNT's "Major Crimes" you missed some emotionally charged moments from this tiny package of talent. Victor's controlled and nuanced performance as the wounded but assertive grandmother Regina Gomez who confronts the police in a final heart-wrenching scene brings actor Raymond Cruz to genuine tears for the police's negligence in the investigation of her murdered grandson.
These recent performances speak volumes about Victor's range, but her gallery of past performances also exhibits similar contrasts. In addition to her recurring roles on "Weeds," "E.R." and "Tyler Perry's House of Payne," her work in "Children's Hospital," "Women's Murder Club," "All You've Got," and the Dolores Huerta-type activist role with Josh Brolin in "Mr. Sterling" is only a small sampling in a procession of roles that can modestly be described as extensive and disparate as well.
Though her focus is on acting in all performing arenas, since her debut at the age of 10 in the opera "Carmen," Renée Victor has had a nonstop, acclaimed career as singer, dancer, and choreographer. She has performed in every medium in top-ranking international venues throughout the Nevada circuit and at top-line stages in Europe, Latin America, the Far East and Australia. While in Australia she hosted and performed in her popular Australian variety show, then upon her return to Los Angeles hosted the talk show "Pacesetters" on KTLA-TV.
Drawing from this extensive experience in many performing capacities prepared her for her present vocation as a character actor of depth, wide-ranging experience and rare talent.
Email Selfman & Others Public Relations