Rosendale Street Festival July 19 and 20: 1 Street, 2 Days, 6 Stages, 74 Bands and Youth Film Festival - By Donation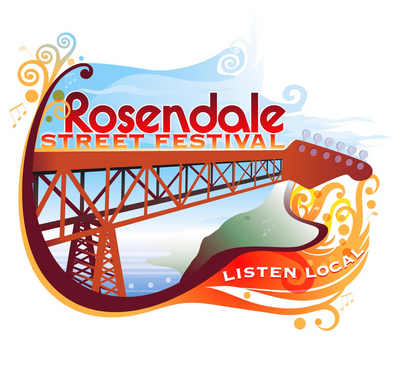 (PRLEAP.COM) July 7, 2014 - The Music Festival of Rosendale is a not-for-profit, grassroots citizen organization that comes together for the purpose of continuing the legendary
Rosendale Street Festival
for the multiple benefits it offers to our community and the Mid-Hudson Valley as a whole. The festival is held on Main Street, Rosendale, New York each July for two days to boost the local economy and boost community interaction. The first Street Fest took place in 1978 so we celebrate it's 36th Anniversary this year!
Charlie Knicely, Musician and Festival Co-Chair states "the festival is a donation driven event that needs the support of everyone if we are going to keep providing this wonderful weekend of music, food and vendors so please be generous when you enter the festival and make sure you tell all your family and friends that they need to witness this amazing, volunteer produced event. It's one of the Northeast's greatest treasures."
Six stages are featured at the street festival five outside and one inside The Rosendale Theater where POOK and Energy will perform and The Children's Media Project will hosting a The Reel Expressions Youth Film Festival which showcases a range of some of the highest caliber youth produced media coming from teen filmmakers throughout the country.
The Street Festival will also feature two parades! The first will open the festival on Saturday at 12noon will feature the Berimbau & Pandeiro Orchestra and is hosted by Arts of Brazil. The second parade will take place on Sunday at 5:45pm and will feature the Rosendale Improvement Association Brass Band and Social Club and POOK. The Street festival is a family affair featuring some of the Hudson Valley's best music for kids and will also have a craft stations so be sure to bring your little ones! There will also be a few surprises (watch out for a flash mob or two).
Festival themed events are going on all over Rosendale leading up to the festival including a special exhibition of festival photos by Jack Baran will be featured at The Rosendale Café and Trance-n-dance-n-drum and there will be a special screening of the film "Peace, Love and Misunderstanding" which was shot during the 2012 Street festival and features many Rosendalians and Rosendale landmarks which will be shown at the Rosendale Theatre on Friday, July 18th.
Carrie Wykoff, Festival Co-Chair states "The Rosendale Street Festival is a fantastic event for the whole family! We offer all styles of music, have craft stations and parades! We are indebted to all of the musicians, business owners and volunteers as well as our stage sponsors - Liggan Insurance, Historic Huguenot Street, The Williams Lake Project and The Wine Hutch who help us make this event a reality."
Festival Schedule:
Saturday, July 19
12Noon
Berimbal and Pandeiro Orchestra Parade down Main Street
Loveypie
Pete Santora
Greg Englesson
Victoria Levy
Los Thujones
1pm
Kids Rock New Paltz
Charles Lyonhart, George Quinn & Rob Stein
iS
Big Bowl of Soul
Purple kniF
2pm
Reel Expressions Youth Film Festival
Rosza
Bob-Kat
Tulula!
Barb Barbara Dempsey & Co.
Gozer
3pm
Reel Expressions Youth Film Festival
Ratboy Jr.
Old Double E
Gutter Cat
The Compact
Paul Green Rock Academy
4pm
Reel Expressions Youth Film Festival
Jude Roberts
Lauren Diamond and the South Paws
Whiskey Mountain
The Kurt Henry Band
Lindsey Webster
5pm
Reel Expressions Youth Film Festival
Rockelle Cakes Quartet
Lara Hope & The Ark-Tones
Mister Kick
Clouds
Protius
6pm
M'Bolla
Steve Mulvaney & Soul Device
The Tall Weeds
Mad Satta
Pitchfork Militia
7pm
Carl Mateo
Dylan Doyle
The New Lazy Boys
Myles Mancuso
Big Sister
8pm
Patti Rothberg
Sunday, July 20
12pm
Mid Hudson Music Together
Paul Maloney
Paul McMahon
Vanessa Knicely
God's Word Worship Band
1pm
Bloom
Dorraine Scofield
Red Neckromancer
St Fest All Stars with Ross Rice, Jimmy Eppard, Charlie Knicely, Carrie Wykoff and more!
Ian Lloyd's Stories
2pm
Reel Expressions Youth Film Festival
Fuzzy Lollipop
Black Mountain Symphony
The New Liberrians
Alex Jornov Band
Les Vegas
3pm
Reel Expressions Youth Film Festival
Grenadilla
Wally Nichols
Frenchy and the Punk
Murali Coryell
The Big Heavy
4pm
Reel Expressions Youth Film Festival
Spiral Up Kids
The Pleasers
Los Doggies
D Squared
Passero
5pm
Fre Atlast & The Rosendale Improvement Association Brass Band & Social Club (RIA)
POOK and Energy in The Rosendale Theatre
Saints of Swing
Marty's Nags
Joey Eppard
Tiger Piss
5:30pm
PARADE FROM CANAL LOCK STAGE TO MOUNTAIN STAGE FEATURING RIA AND POOK
6pm
Voodelic
The 2014 Rosendale Street Festival will be taking place on July 19 and 20. On both days, Main St. becomes closed to traffic at 10:30am and music begins at noon. The festival will end at 9:00pm on Saturday and 7:00pm on Sunday. UCAT will be providing shuttles from the following parking areas: Bloomington Fire House, Tillson School, Brookside School, The Rondout Municipal Center and The Iron Mountain Kiln lot (to the left of the Iron Mountain main entrance) on Binnewater Road.
To learn more about the event or to volunteer please see:
www.RosendaleStreetFestival.org
. Please see our EPK here:
http://rosendalestreetfestival.ning.com/page/epk
Email Rosendale Street Festival