North Texas' Irving Arts Center to Host National Geographic's Peruvian Gold Exhibit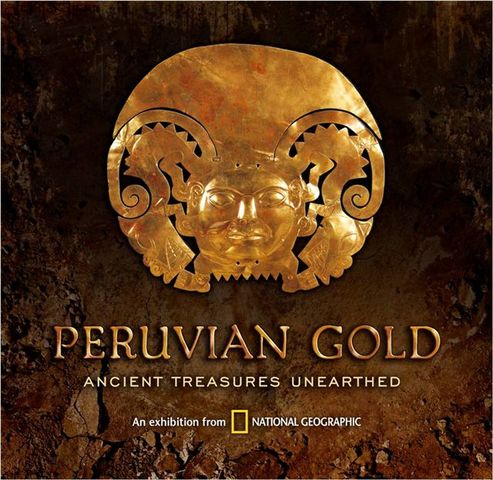 (PRLEAP.COM) IRVING TX (September 11, 2014)- Beginning October 4, 2014, guests at the Irving Arts Center will be able to step back in time to an era of opulence and ceremony when Peruvian Gold: Ancient Treasures Unearthed comes to North Texas. This remarkable collection of ancient gold and silver artifacts, excavated from Peru's legendary royal tombs, will showcase extraordinary objects from Peru's pre-Inca heritage, including gold ceremonial and funerary masks, textiles, ceremonial ornaments, ceramics and jewelry. Peruvian Gold will be at the Arts Center through December 31, 2014.
Presented in partnership with the National Geographic Museum in Washington D.C., the Irving Arts Center and the National Geographic Museum in Washington D.C. are the only two stops in the United States for Peruvian Gold. Rivaling anything made by the ancient Egyptians, the centerpiece among the rare treasures is "El Tocado," the largest and most ornate pre-Columbian headdress ever discovered. The elaborate gold headdress dates from the Middle Sican period (A.D. 900-1100). This exhibition is the first time it has been on display in the United States since it was unearthed in 1991.
Guest curated by National Geographic's Archaeology Fellow Dr. Fredrik Hiebert, Peruvian Gold features stunning and iconic artifacts on loan from three Peruvian institutions: Sican National Museum, Larco Museum and Museum of the Central Reserve Bank of Peru.
"National Geographic has been sharing the stories and the archaeology of ancient Peru for more than 100 years," said Kathryn Keane, vice president of National Geographic Exhibitions. "This exhibition is an opportunity to walk into the pages of National Geographic magazine and see unique treasures from Peru's golden past."
National Geographic Society's longstanding relationship with Peru began with the sponsorship of Hiram Bingham's excavation of Machu Picchu in 1912. The National Geographic Society has funded over 180 grants related to exploratory field research in Peru since 1912, including 14 linked to excavations of royal tombs.
In addition to providing visitors with the opportunity to get up close and personal with stunning examples of ancient craftsmanship, the exhibit also explains how the artifacts reflect the customs, beliefs and ideals of the cultures that produced and utilized them. A map and timeline of Peru's earliest civilizations serve as the starting point for museum visitors. The exhibition continues with the iconography, craftsmanship and ceremonial heritage of these complex societies.
The Peruvian Gold artifacts are organized thematically, with the first group emphasizing the importance of symbolism in Peruvian culture through intricate animal masks and impressive breastplates worn by dignitaries and priests. The exhibit goes on to highlight objects that illustrate ancient Peruvian craftsmanship, attire, rituals and even libations. From nose rings to gold feathers, the diverse selection of artifacts offers a sweeping view of the rich artistic culture of early Peru.
This exhibition partnership also includes the Peruvian Ministry of Culture and the Embassy of Peru. "Peru has a long history of cooperation and partnership with the National Geographic Society, which dates back to the early years of the institution," said Harold Forsyth, Ambassador of Peru to the United States. "National Geographic has been involved in many of the most important Peruvian archaeological findings to date and has always been a dependable partner, managing to properly portray the image of Peru beyond its borders. We are thrilled that, through this exhibition, visitors will have the opportunity to cross a cultural bridge and understand why Peruvian culture still dazzles the world to this day."
On October 4, Dr. Hiebert will mark the exhibition's opening with a lecture on the significance of the artifacts on display. His lecture is the first of many free programs being offered by the Irving Arts Center during the Peruvian Gold exhibition.
Arts Center Executive Director Richard Huff stated, "The Irving Arts Board is very pleased to partner with National Geographic to offer this extraordinary exhibition to Irving visitors and residents. To complement the exhibition experience, the Irving Arts Center is presenting many free programs designed to appeal to all ages and interests."
In 2011, the Arts Center hosted Genghis Khan: The Exhibition featuring the largest number of artifacts from 13th century Mongolia ever gathered in a single showing. The four-month exhibition was attended by over 50,000 people, including 12,682 students. Visitors came from 49 states and the District of Columbia, pushing annual Arts Center attendance up to 162,831.
Free docent-led tours (exhibit ticket purchase required) of the Peruvian Gold exhibition will take place every Thursday at 6:30 p.m. and Saturday at 1 p.m.
For additional information about Peruvian Gold special events and tickets, visit
www.irvingartscenter.com
.
EXHIBIT HOURS: Tues., W, F, Sat 10a-5p; Thurs. 10a-8p; Sun 1-5p; closed Mondays, Thanksgiving Day, and Christmas Day.
PRICE: Adults $12; Seniors, Students, COI Employees, Art Connection & National Geographic Members, Military, and groups of 10 or more $8; Student groups of 10 or more $5.
ABOUT THE IRVING ARTS CENTER
The Irving Arts Center is a department of the City of Irving and an affiliate of the Smithsonian Institution. In 2013, the Arts Center hosted 1,715 events, including 186 performances and 24 exhibitions, and welcomed 111,358 visitors from 43 states and the District of Columbia. For more information, call 972-252-7558 or visit
www.irvingartscenter.com
.
Contacts:
Dana Cobb
TrizCom Inc.
972-955-9747
dana@trizcom.com
Kass Prince
Irving Arts Center
972-252-4403 or 214-878-5598
koprince@cityofirving.org
PHOTOS AVAILABLE