Hancock air quality report to be presented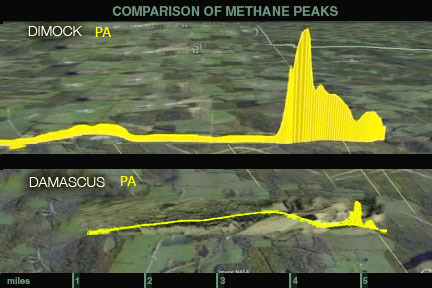 (PRLEAP.COM) November 25, 2014 - HANCOCK, NY - A study of ambient methane levels in ground level air in the Town of Hancock has been completed by
Gas Safety USA
, and will be presented to the public on
Wednesday, December 3rd at 7 PM in the Hancock Town Hall
, 661 West Main Street Hancock. NY 13783. The study is sponsored by Damascus Citizens for Sustainability (DCS) and funded by generous grants from foundations and by contributors to DCS. Presenters will be Gas Safety President Bob Ackley and Bryce Payne,PhD, Gas Safety's Director of Science and Technology.
Low levels of methane occur naturally in ground level air, and there are many natural sources. The key to understanding methane conditions in a given area is knowing how much occurs where, at any given point in time. If a local normal methane condition, and types and locations of local methane sources can be identified, local "normal" or baseline conditions can be documented. Since natural gas is mostly methane, measurement of methane levels can provide an indication of how much natural gas leakage and related contamination is occurring in a given area. In areas where there is natural gas exploration and development activity, as may commence soon in New York State, methane levels may increase due to leakage from geological substrata, venting, accidents and the like. Documentation of baseline methane conditions simplifies detection and identification of methane contamination from any new source. The Gas Safety Inc. report provides such documentation of baseline methane conditions for the Town of Hancock.
Gas Safety uses a relatively new technology called "cavity ring-down (laser) spectrometry" (CRDS), capable of continuous, mobile measurement of methane to levels as low as parts per billion (0.0000001 %). The CRDS instrumentation was driven in a car over public roads throughout the Town of Hancock. The instrumentation also collects time and GPS location data, which allows plotting of methane levels on easy-to-read maps, which will be shown at the presentation.
The advisability of baseline water quality testing in areas likely to experience gas drilling is already widely recognized, and, indeed, the New York State Department of Environmental Conservation (DEC) draft regulations included mandatory testing of water wells within a certain distance of well pads, paid for at the drilling company's expense. However, similar attention has not been paid to potential air quality issues. DCS's baseline testing project is designed to fill some of that void. Baseline tests have already been conducted in Damascus, PA; and in NY, the Towns of Delaware and Sanford, and part of the Town of Minisink .
The report provides a baseline for comparison that will help landowners, first responders and other stakeholders detect any problems that occur in terms of drilling and infrastructure-related emissions promptly and take appropriate action, as well as helping settle any disputes as to whether any air problems are caused by drilling or existed before natural-gas-related activities commenced.
For more information call 845/252-6677. and see GasSafetyUSA.com
Email Damascus Citizens for Sustainabilit