Office of The Secretary of Defense Awards "Patriot Employer" Award to Argus Chief Executive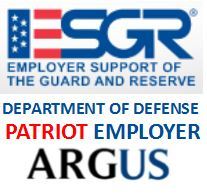 McLean, VA., January 28, 2015 – Argus CEO, Jon Snyder, was awarded the "Patriot Employer" award from the Office of the Secretary of Defense, Employer Support for the Guard and Reserve (ESGR).
According to the U.S. Department of Defense website, the Patriot Award reflects the efforts made to support Citizen Warriors through a wide-range of measures including flexible schedules, time off prior to and after deployment, caring for families and granting leaves of absence if needed. Patriot Awards are awarded to individual supervisors, not to an entire staff or organization as a whole and are initiated through nomination by Guard or Reserve personnel
"It is a true honor to be the recipient of the Patriot Award. The award is a testament to our mission statement; which focuses on genuine caring for the professional and personal lives of all Argus mission partners.
After being a direct employee for several years of my professional career, I learned quickly that more often than not, employees were thought of as a commoditized and disposable asset – not encouraged and supported to be their best in every aspect of their life. I always felt a lack of sincerity from employers, which is one of the reasons I was compelled to start my own business. Over a decade later, it is clear our company success has originated from the genuine caring of our mission partners and our practice of a 'One Team, One Fight' philosophy - rather than the discouragement that comes from a self-serving management approach. We believe in the power, passionate commitment, and ingenuity of people - which is what the Patriot Employer represents," stated Jon Snyder, president & CEO.
About ESGR
ESGR, a Department of Defense office, was established in 1972 to promote cooperation and understanding between Reserve Component Service members and their civilian employers and to assist in the resolution of conflicts arising from an employee's military commitment. ESGR is supported by a network of more than 4,700 volunteers in 54 committees located across all 50 states, the District of Columbia, Guam-CNMI (Commonwealth of the Northern Mariana Islands), Puerto Rico and the U.S. Virgin Islands.
About ARGUS
Argus is a multinational company and prime federal contractor with operations spanning global security, law enforcement, intelligence, logistics, information technology, and special operations. Delivering project expertise on five continents, Argus is a globally recognized brand offering superior project management knowledge to government and commercial customers worldwide.
Contact:
Public Relations
publicrelations@TeamArgusUSA.com
1350 Beverly Road, Suite 115-206
McLean,VA 22101
www.Go-Argus.com
Email The Argus Companies