Mister Sewer Helps Customers Diagnose Their Sewer Line Issues with their New White Paper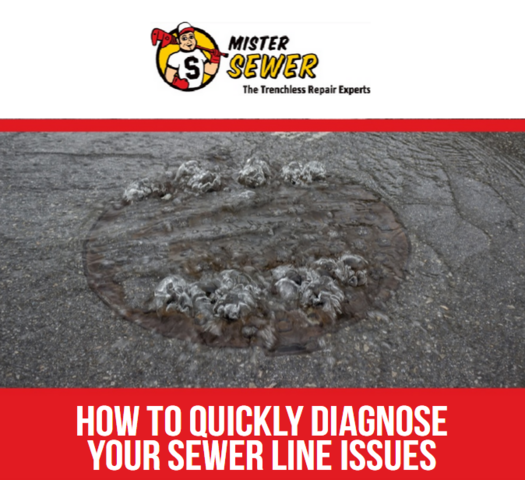 (PRLEAP.COM) March 13, 2015 - A clogged sewer line or other sewer line issues can prove costly to your home. Make sure you know how to quickly diagnose any residential sewer line issues by checking out the latest white paper from the team of Pittsburgh plumbers at Mister Sewer.
As the experts in sewer line repair and Pittsburgh plumbing services, the plumbers at Mister Sewer know that keeping track of your home's sewer line is no easy task. Hidden beneath the foundation of your home, a residential sewer line is often out of sight and out of mind for many homeowners.
However, it is important to recognize that your home sewer line is your responsibility, and ignoring any potential problems or issues can quickly add up and lead to a costly repair both in and outside of the home. Make sure you know how to accurately diagnose a problem when you see one.
One surefire sign of a sewer line backup is having multiple drain clogs in the home. While it is true that drains get clogged fairly easily, these types of clogs can often be prevented by just being mindful of what you let go down the drain. However, if you notice that these clogs are happening often and all throughout the home, you would be wise to call your local sewer line expert.
Furthermore, if you hear any irregular sounds coming from your home's plumbing and drain systems, such as a percolating sound, you may have a serious sewer line issue on your hands. Pay close attention to the sounds your appliances that use water make, and be on the lookout for gurgling sounds coming from the drains in your home.If you ever notice drainage coming out of your household's basement drain, or at your home's sewer clean out, this is a sign that your sewer line may be backed up.
Thanks in part to new technology, a professional sewer line repairman can quickly diagnose and treat any problem or sewer line issues you may be having. Sewer line inspection cameras, drain snakes and more make it easier than ever to pinpoint the location of a clog and flush out your sewer line. Even repair and replacement of your home's sewer line has become easier with trenchless sewer repair services.
As always, quick diagnose of any issues with your sewer line can save you time and money. Make sure you know the common signs of a sewer line issue by checking out Mister Sewer's white paper, available for download at
http://mistersewer.com/company/white-paper-quickly-diagnose-sewer-line-issues/
.
If you notice any irregularities occurring within your home's sewer line or plumbing system, don't hesitate and call the experts at Mister Sewer. For years, the Pittsburgh plumbers at Mister Sewer have helped hundreds of clients handle all types of household plumbing and sewer line issues. Discover how the team at Mister Sewer can help you by visiting
mistersewer.com
.