Rio Vista Shores Engages Pacific Engineering for Phase 1 Track Map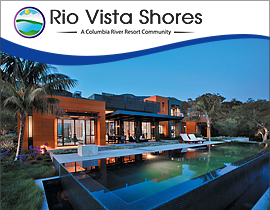 (PRLEAP.COM)
March 29, 2015, Wenatchee WA:
Excitement is building in Wenatchee as plans for some of the last
riverfront homes for sale
in the area come closer to fruition. Rio Vista Shores, a 118 acre project site with unsurpassed views on the banks of the Columbia River, just south of Wenatchee, has engaged a local civil and structural engineering firm, Pacific Engineering, to develop its Phase 1 track map.
Phase 1 of the Rio Vista Shores project entails the beginning of development of
riverview real estate
. Nine custom home sites will be available, with average lot sizes ranging between .565 acres and .715 acres. These lots will be highly desirable since they represent some of the area's last undeveloped riverfront parcels. They offer either the perfect location for a second home or a desirable rate of return as an investment property when prospective buyers from Seattle, Portland, Victoria and Vancouver search for vacation homes in the Wenatchee area.
The track map is required to nail down several engineering and structural details so that construction can begin in August 2015. Pacific Engineering will be updating civil engineering plans, coordinating improvements with updated county road standards, finalizing construction documents and permits, updating the legal description for the track map, and completing the approval process with Douglas County.
The upscale development on the shores of the pristine Columbia River offers a rare opportunity to purchase these
vacation homes for sale
or invest in Washington real estate. The
Crescent Bar condos
area, long recognized as a top water-skiing, wind-surfing and water sport recreation area, is located approximately 90 miles east of Seattle.
"Whether you are looking for possible
investments
in Washington real estate or thinking about buying a vacation home in Wenatchee, this undertaking should be seen as a huge step forward," commented Jan Hochhauser, AIA of Hochhauser Blatter Architecture and Planning. "We are confident that working with a local firm like Pacific Engineering will make sure that Phase 1 of our project meets with the highest engineering standards and takes full advantage of this outstanding riverfront real estate."
Pacific Engineering
provides structural and civil engineering design and consulting services to municipal, commercial, public and private clients. Their staff includes licensed structural, civil and agricultural engineering. Principal Project Engineer Martin Davy, who joined the firm in 2003, will be working closely with Rio Vista Shores on plans for the
Wenatchee acreage
.
Davy has over 24 years of experience as a designer and project engineer for civil and structural projects. His work has included feasibility and cost studies, preliminary and detailed design, contract documentation, cost estimates and construction supervision. He has been involved in numerous public works projects includes highways, sewers, streets and transit systems. His private projects include over 40 subdivisions, multi-family complexes and more than 30 commercial and institutional developments. Martin's specific technical expertise includes subdivision layout and grading, street alignments and improvements, storm drainage analysis and design, and value engineering.
About Rio Vista Shores:
Rio Vista Shores offers a unique opportunity to invest in some of the last undeveloped
riverview real estate
in Wenatchee, WA. The
Crescent Bar real estate
development will begin construction of these luxury riverfront homes in August 2015. Visit the website at
http://riovistashores.com
to download a complimentary PDF of the Rio Vista Shores Homes Portfolio. "Like" the
Facebook page
for updates on the prime
riverfront real estate
. Call 1-877-RIO-2221 for further information on investments in this riverview real estate.