GreenRope Acquires CoolerEmail and CoolerWeb To Expand Brand Presence And Influence in CRM And Marketing Automation Industy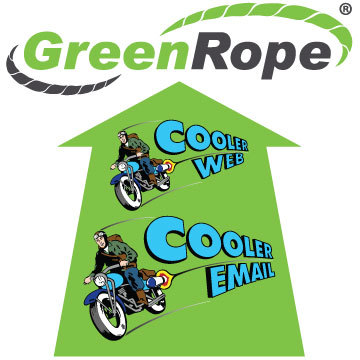 SAN DIEGO, CALIFORNIA – April 7, 2015
– GreenRope, a leading CRM and marketing automation platform, announces its acquisition of email marketing platform, CoolerEmail, and CRM and marketing platform, CoolerWeb.
This strategic move enables GreenRope to increases its user base and provide more businesses with a complete solution to streamline and grow their brands. The response and transition has been overwhelmingly positive for all parties.
The acquisition automatically transfers all CoolerWeb users over to the advanced GreenRope platform, giving CoolerWeb users a more robust sales and marketing system. CoolerEmail clients have the choice to transfer to a full GreenRope account or remain on the CoolerEmail platform.
CoolerEmail was one of the earliest email marketing platforms. This popular platform uses pay-as-you-go and lets you buy "stamps" to send just a few emails versus paying at a full subscription level.
CoolerWeb was a CRM and marketing platform used to manage contacts, develop websites, and engage your leads. Because CoolerWeb users were automatically switched over to the GreenRope platform, they, now have a full suite of sales and marketing tools at their fingertips.
"At GreenRope, we are interested in providing a feature-rich platform to as many small and medium sized businesses as we possibly can," says Founder & CEO of GreenRope, Lars Helgeson. "Acquiring CoolerEmail and CoolerWeb is beneficial for both users and the GreenRope brand. They now get the power of GreenRope, and we get to help them find success through technology."
It is no surprise that the majority of CoolerEmail clients are switching over to GreenRope, and that there has been nothing but positive feedback regarding the CoolerWeb transition.
Learn more about GreenRope and its many features and capabilities.
About GreenRope
Lars Helgeson, who saw the need to make running a small to mid-sized business easier and more efficient, founded GreenRope. GreenRope's mission is to resolve the challenges of managing business operations by providing cloud-based integrated software that is effective, affordable, and user friendly. GreenRope streamlines key operations, including e-commerce and accounting, CRM, email marketing, mobile marketing, calendaring, websites, social media and more, into one easy-to-use platform. By using GreenRope, companies can reduce their marketing and CRM software expenses by an estimated 80%. GreenRope's affordable pricing plans start as low as $149/month. Visit
www.greenrope.com
for more information.