Tudi's Newest White Paper Helps Homeowners Prepare for Spring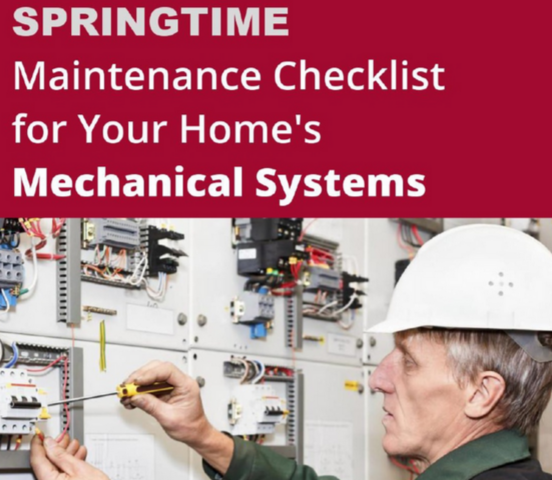 April 8, 2015 - As the snow melts and the temperature begins to warm up, homeowners all across the country are dusting the dirt off their home with their yearly spring cleaning rituals. Get a head start on keeping your home's mechanical systems up to date with help from Tudi's latest white paper, 'Springtime Maintenance Checklist for Your Home's Mechanical Systems.'
Along with the warmer weather, spring brings on an increased workload for your household's mechanical systems. Taking the time to make sure your home's plumbing, heating, cooling and electrical systems are all performing up to par can help you improve efficiency throughout the home and cut back on high utility costs.
Winter can wreak havoc on your home's plumbing, so be sure to take some time to inspect the pipes throughout your home and look out for leaks and cracks. Repairing these leaks you find along the way could save you up to 10% on your water bill. Another smart tip to prepare your plumbing for the spring showers ahead is to make sure your sump pump is in good working order to handle any potential flooding that may come during the spring season.
Giving your home's HVAC system some quick maintenance checks can also go a long way in cutting your overall energy usage. As you begin to lower your heating and shift towards your cooling system, making sure that your A/C unit is clean and ready to go can help improve efficiency. Call a local HVAC technician to inspect your home's HVAC system and ensure that your home will be cool and comfortable for the warmer months ahead.
Whenever electricity is involved, hiring a professionally licensed electrician is a must. A certified electrician will make sure all of your home's wires and plugs are all up to code, and work to make any necessary adjustments to your home's wiring, plugs and circuits.
Taking the time to give your home a springtime inspection will help keep your home's mechanical system running smoothly and safely all season long. Discover how a little spring cleaning can help you save this season and check out the white paper from Tudi by visiting
http://www.tudi.com/springtime-maintenance-checklist-for-your-homes-mechanical-systems-white-paper
.
Whether you're looking to give your home a mechanical system makeover or just a simple maintenance inspection, get in touch with the expert team of technicians at Tudi for all your home's needs. With an exceptional team of plumbers, electricians and HVAC technicians, Tudi is able to provide Pittsburgh-area homeowners with the best service around for improved energy efficient results all throughout the home. Discover how Tudi can help you by visiting
www.tudi.com
.