Leslieville Kitchens Offering Custom Built Kitchens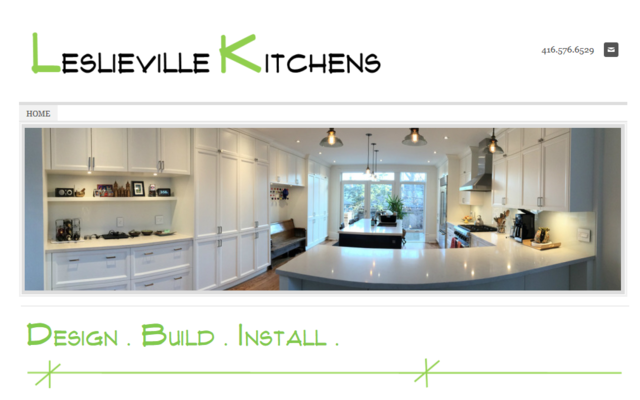 Toronto, ON April 15, 2015 – Bowery Design Group, a name synonymous with excellence in custom built homes, is taking the next logical step, expanding into custom kitchen designs. The new business, Leslieville Kitchens, just recently opened its doors for business. There's not much on the website right now, but look for that to change in the near future.
"I am really thrilled to be joining forces with Leslieville Kitchens" said Jeff Mowder, Principal of Bowery Design Group. "There is a huge need in the Toronto custom home market for quality and well designed kitchens. Working with Leslieville Kitchens we will be able to offer complete customized kitchens to fit all our clients' budgets."
Leslieville Kitchens offers custom kitchen and bath, built-ins. We specialize in custom to semi-custom kitchen cabinetry design, supply and installation. We also do bath, laundry, living room and other custom millwork. We do jobs big and small. Whether you're installing a kitchenette in a basement apartment or state-of-the-art kitchen on the main floor, no job is too small. Unlike the big brand names like Ikea and Costco, we are dedicated to working together with you for the results you're looking for. Simply put, you'll be blown away with our work. We have our own contractors; we don't outsource our work to third party contractors like the big companies.
We aren't just experts in kitchens; we offer professional custom home advice to help you design the kitchen of your dreams to fit the rest of your house. We leverage our
custom home building
background from Bowery Design Group. We offer price and quality ranges from mid to high end for custom cabinetry and millwork. We also offer an economy line of semi-custom cabinetry for contractors, land lords, and budget conscious homeowners.
Leslieville Kitchens is special and different from the competition because all of our kitchen cabinets are made in Canada. We have products that fit every budget and taste. We can take care of all your design and contracting needs. We offer a seamless approach from initial meeting to installation. Our two founding partners have combined 40+ years of experience in construction and cabinetry business. Our business has been 100% referral from satisfied clients. We're confident you'll rave about our service offering and products.
Bowery Design Group
91 Silver Birch Avenue.
Toronto, M4E 3L3
Ontario, Canada
Email Bowery Design Group