Cathedral Village Self Storage Explains the Differences in Self Storage Security Features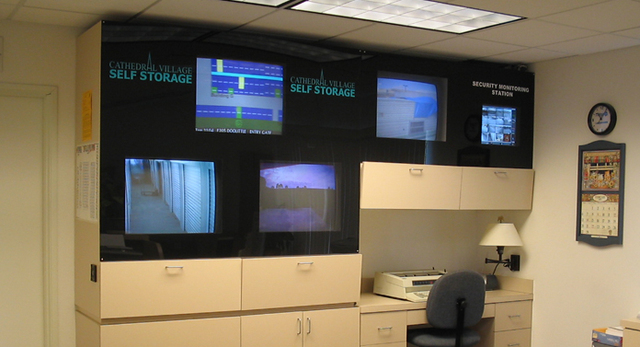 April 15, 2015 - All storage facilities claim that they are secure, but what features are truly state-of-the-art that you should demand to keep your valuable belongings protected when they are not in your home? Centrally located, clean, and affordable, Cathedral Village Self Storage offers the following explanations of some of the most vital self storage security features for you to keep in mind when choosing a Palm Springs area storage facility.
Concrete Wall:
Many Coachella Valley self storage facilities provide only a chain link or wooden perimeter fence. However, a concrete or block wall is much better at eliminating or reducing the potential threat of someone climbing over and into the property. Facilities that do have a wall tend to have an 8 ft. wall, but Cathedral Village Self Storage makes security a priority with a 10 ft. concrete block wall.
Cameras:
In addition to a perimeter wall, a better storage facility will also have security cameras throughout the facility. The number and placement is vital to ensure that there is extended and overlapping coverage of the property. Cathedral Village Self Storage uses digitally recorded surveillance cameras inside and outside to monitor activity throughout the property.
Perimeter Beams and Alarm:
Cathedral Village Self Storage might just be the only Coachella Village storage facility using perimeter beams. These added security measures are activated during off hours when the gate entrance is closed.
Closed Gate:
Many self storage facilities use an arm-like gate that allows any tenant or individual to walk right into the property, and some even leave the gate fully open during operating hours. Cathedral Village Self Storage uses only sliding gates that close after each vehicle enters.
High-Tech Security Code System:
In addition to the sliding gate, Cathedral Village Self Storage digitally records "all" of the activity of tenants. Each tenant is provided with a specific gate code that must be entered to access the property. With this system, the managers at Cathedral Village Self Storage can track the name of each tenant, what time each tenant comes and goes, the unit number, which keypad was used (Cathedral Village has 8), which gate was used (we have 3), and how many times the facility was accessed. We can even tell if the unit was accessed without keying in at the gate. The managers can even search the opposite way to check if a specific code was used to access the property on a specific date.
Lighting:
Another simple yet very important part of security is ample lighting. At Cathedral Village Self Storage, we want all of our tenants to feel safe if they have to come in at nighttime or anytime they are on property. We provide lighting on all aisle ways, motion detected lights in the hallways of the air conditioned buildings, and lighting over all three RV pads. All outside lights are on sensors to turn on as soon as it begins to get dark in the evening.
Resident Manager:
The absolute, most important part of any security system is an active manager that monitors all activity on the property during office hours, after hours, on the days the office is normally closed, and holidays. At Cathedral Village Self Storage we have a manager on property 7 days per week, walking the property, checking who is on property and what are they doing. We want our tenants to have that additional sense of security from seeing us there at different times and off hours.
Convenient Tenant Access:
All of this added security keeps your belongings safe and secure from anyone who shouldn't be on property, however, Cathedral Village Self Storage offers very flexible hours for its tenants. We offer 7-day access, including holidays, from 6:00am – 9:00pm.
When you are ready to move some of your valuable items into a Palm Springs area storage facility, Cathedral Village Self Storage is here to keep your belongings safe and secure. Call our resident manager Betty at 760-770-7651, and she will help you determine the right size storage unit and provide a free custom quote. We don't require a deposit or insurance, and you can even use our free truck to move. We have boxes and other packing supplies available as well. Although you do actually have to pack the items yourself, you won't have to think twice about whether your belongings will be secure.
Email Cathedral Village Self Storage