Earth Day 2015: Austin Based R2Sector Launches With Free Onsite Visits to Make Responsible E-Cycling Easier for Everyone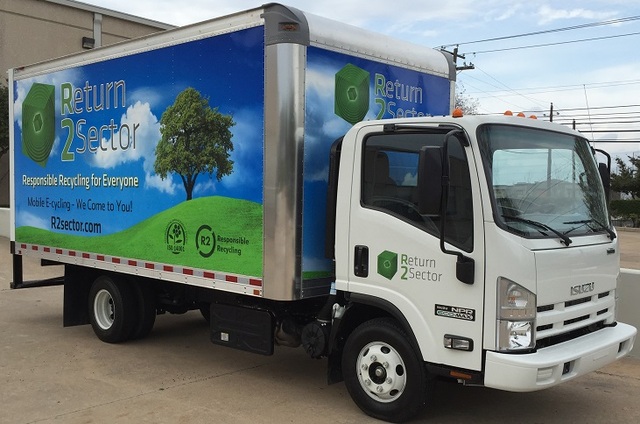 April 22, 2015 - Return2Sector, a division of Austin based Sector Supply, kicked off its official launch today featuring an Earth Day route of free onsite e-cycling visits throughout the city. For over a decade, Sector Supply has provided asset recovery, reuse procurement and e-cycling services to the world's largest phone companies. With R2Sector, the company's goal is "to make responsible recycling of old electronics easier for everyone" by providing the same certified, enterprise level e-cycling services to the local community.
The company's COO, Shiloh Coleman, said Sector Supply noticed a need in Austin for easy, convenient, mobile e-cycling services. "The idea came about when we were asked by a large carrier customer to obtain additional certification to the 'responsible recycling' R2 standard. During that process, we realized how much the local community could benefit from being able to access the same level of professional reuse and recycling services we have provided our large carrier customers for years," said Coleman. "All of us, organizations and individuals alike, have a stash of old electronics taking up space in a closet or gathering dust in the attic. It's right to be concerned about how to properly dispose of those items, because when improperly handled, the results can be disastrous for both the environment and for people. We come to you, free of charge, and take care e-cycling those items in the most environmentally sound and secure way possible."
The company is audited several times annually by two independent third party auditors to verify conformance with international quality, safety, sustainability, environmental and responsible recycling standards. Strict security and data destruction measures are documented and verified, and downstream vendors providing refining and recycling services are audited and inspected to ensure nothing processed by the company ends up in a landfill, or improperly dumped overseas. "We are proud that in over 12 years of operations, we have kept over one million pounds of electronics and plastics from impacting the environment by following a strict reuse/recycle hierarchy for every item received. Everything is either refurbished for sustainable reuse, or responsibly recycled for harvesting raw materials back into the manufacturing supply chain," Coleman continued. "Now, we are offering that same level of integrity and quality to our local Austin community, by providing an easy, free e-cycling option for everyone."
To find out more and to schedule a visit with R2Sector's friendly mobile team, visit
www.r2sector.com
.
Media: interviews with the company, testimonials from community participants, and more information are available upon request. Please contact the company directly at 512/579-3890 or via
info@r2sector.com
.