Become a QuickBooks Expert with Help from Ability Business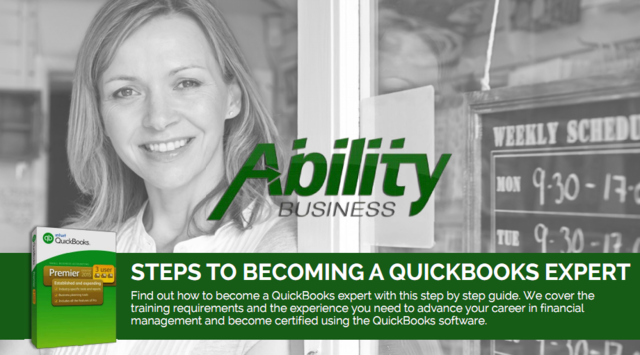 April 23, 2015 - Owning and managing a business is not an easy job. Even if you find yourself excelling on the front end, managing your company's financial records can quickly become complicated. Simplify your company's backend with help from the QuickBooks Financing Software Experts at Ability Business.
Featuring a simple and easy-to-use platform, QuickBooks Financial Software has been the preferred accounting software for small business owners all across the country. No matter what your financial background may be, the bookkeeping services from QuickBooks make it easier than ever to manage your business's backend.
One of the main reasons that so many entrepreneurs and startup businesses fail within their first year is due to a lack of money management skills. When basic accounting skills aren't enough, the QuickBooks Financial Software packages and consulting services from the experts at Ability Business help you keep your business afloat with comprehensive financial records and reliable reporting available at just the click of a button.
While QuickBooks is simple enough for beginners to bookkeeping to use, having a basic understanding of budgeting, taxing and calculating profits & losses will help you make the most out of the wide range of features on your QuickBooks software.
Working with a team of certified QuickBooks Financial Software experts is the best way to give your business a competitive edge and make the most of your software investment. While you may be far from a financial expert, a certified QuickBooks financial software professional can help you find add-ons custom tailored to your business's needs that add value to your QuickBooks financial software. From installation and implementation to practical usage, the team at Ability Business is well-equipped to help you understand the full range of QuickBooks services.
Certified QuickBooks Financial Partners are able to provide training, support and consulting services to help you understand all of the reporting and features of your QuickBooks platform, allowing you to more easily manage your business's backend.
Discover more about the benefits of working alongside a certified QuickBooks financial software expert by checking out the slideshow from Ability Business at
https://www.abilitybusiness.com/becoming-a-quickbooks-expert-slideshow
.
Give yourself a comprehensive understanding of your businesses backend with the consulting and financial support services from the QuickBooks experts at Ability Business. Our consultants are professionally certified by Intuit QuickBooks to offer industry leading training and support to help you grow your business. Discover how Ability Business can help you grow your bottom line by visiting
www.abilitybusiness.com
.