Peacock Data has biggest new software product launch in their history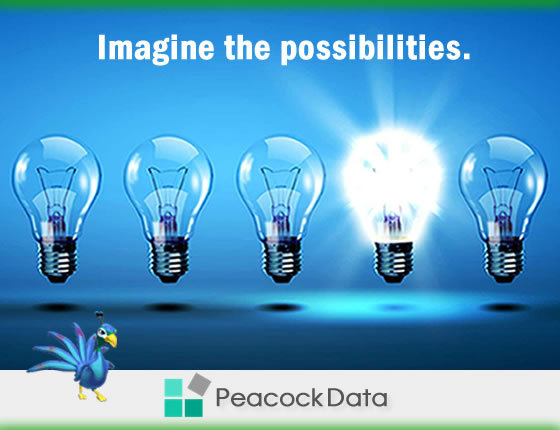 May 5, 2015 - In the 60 days following the March 2, 2015 release of
Peacock Data's pdSurname last name software
, twice as many units have been licensed compared to any previous new product offering.
According to spokesperson Barbara Adair, who is also the company's chief development coordinator,
"We are encouraged and grateful for the response to this outstanding new software package. A lot of time and effort has been put into it. It is a very exciting time for both our customers and us."
The new software product is marketed to multiple groups, including businesses, organizations, schools, government, and researchers. It does for last names what the firm's highly regarded and internationally utilized
pdNickname
flagship product has been doing for first names for more than 20 years.
At its core, pdSurname assists companies and organizations working with lists of names, such as their client register. Because many database records have the same person listed under slightly different name variations, such as 'Johnson' versus 'Johnston', 'Balmer' versus 'Bolmer', 'DeGarcia' versus 'Garcia', and 'Al-Hassan' versus 'El-Hassan' versus 'Hassan'; the software lets anyone working with names, merge database information and remove duplications.
The end results are reduced long-term costs, improved customer service, and better sales,"
Barbara Adair noted.
"This is particularly critical in the medical industry where patient records frequently can be in multiple places with slightly different versions of a name. This has led to terrible consequences in some instances, along with unnecessary medical procedures and diminished medical care in many other instances."
The new pdSurname software, however, does more by connecting the more than 335,000 last names included with more than 600 languages, dialects, ethnic groups, and races, from English and Spanish to Russian and German to Persian and Arabic to Japanese and Chinese. It covers the globe.
The spokesperson added,
"Students, teachers, scholars, and those researching family histories benefit as well because this software is recommended for study in genealogy, onomatology, anthroponymy, ethnology, linguistics, and related disciplines."
PDSURNAME SPECIFICATIONS
The software comes in
Standard
and
Pro
editions. Both include the same names and features except the
Pro
version comes equipped with fuzzy logic. Fuzzy logic allows matching when lists have misspellings or other typographical errors. The
Standard
edition has everything except fuzzy logic.
Total name records:
Pro: 109,932,801; Standard: 81,079,801
Zipped size:
Pro: 1.2 GB; Standard: 962 MB
Extracted size:
Pro: 22.9 GB; Standard: 16.8 GB
Introductory Price:
Pro: $371.25; Standard: $224.25
The package also features precision documentation and a perpetual site license allowing installation on all computers in the same building within a single company or organization.
MORE ABOUT PDSURNAME >>
pdSurname is also part of the company's
pdSuite Names
(now on sale, $645) and
pdSuite Master Collection
(now on sale, $795) software bundles.
About Peacock Data
California-based Peacock Data are the makers of database software products used by business, organizations, churches, schools, researchers, and government. They are an industry leader because of their superior solutions and renowned loyalty to customers.
For more than 20 years Peacock Data's specialized software has been utilized in applications you use every day.
MORE ABOUT PEACOCK DATA >>
Attachments