G6 Helps Athletes Understand the Science Behind Sports Nutrition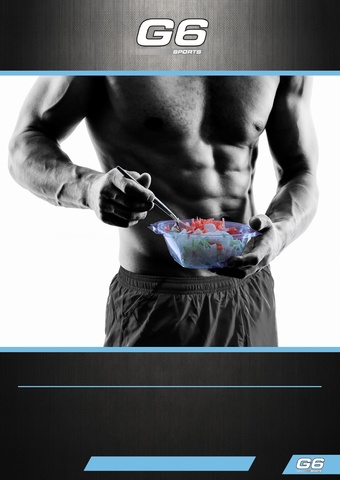 May 5, 2015 - If you are looking to take your game to the next level, proper sports nutrition may just be the secret to unlocking your body's true potential. However, giving your body the proper nutrients at just the right moment isn't as easy as it sounds. Make sure you know what it takes to take your performance to new heights by checking out the latest white paper from the team at G6 Sports.
Optimal sports nutrition is the best way to energize your muscles, allowing you to work harder and recover faster as you push yourself to the limit and leave your competition in the dust. Regardless of what you are putting into your body, it will hold some effect on your ability to perform.
While many athletes and fitness enthusiasts meticulously create meal plans and count calories, Sports nutrition takes it a step further by helping athletes determine just when their body is in need of a certain nutrient to help maximize their performance and energy levels. By understanding what nutrients are needed to help you perform, and the proper timing of those nutrients entering the body, athletes are able to see improved results on and off the field.
Many athletes use this knowledge to their advantage, helping provide them with a quick performance boost minutes before walking onto the field or into the gym. Workout supplements make it easier than ever to quickly provide your body with just the right macronutrients you need to overpower and outlast the competition.
Protein supplements and powders are easily the most popular workout supplements on the market. Having a constant on-the-go schedule doesn't always leave time for proper nutrition. Protein powder makes it easy to maintain a well-balanced diet and provide your muscles with the protein it needs to stimulate growth and recovery. While there are a variety of different protein supplements to choose from, most athletes choose a whey protein isolate to provide their body with the highest-quality of protein on the market.
When combined with a nutrient-rich meal plan and a rigorous training regimen, sports nutrition supplements present a long-term solution for athletes looking to gain an edge over their competition. To learn more about how these supplements may help improve you game, check out the white paper from G6 Sports by visiting
http://www.g6sportsnutrition.com/sports-nutrition-science-white-paper/
Take your game to new heights with help from the power-packed line of workout supplements from G6 Sports. No matter what your fitness goals are, G6's comprehensive line of sports nutrition supplements will help you get there faster than ever before and help you make the most of every movement. If you're ready to start unlocking your body's true potential, try G6 today and experience the difference that quality sports nutrition can make for you. For more information, visit
www.g6sportsnutrition.com
.