HVAC Brain Inc. Adds Nu-Air Energy Recovery Ventilators and Heat Recovery Ventilators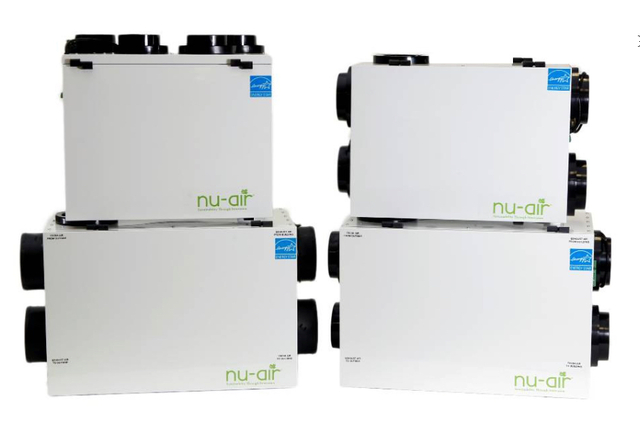 May 7, 2015 - HVAC Brain, Inc., online retailer of HVAC/R equipment and replacement parts, has added
Nu-Air energy recovery ventilators (ERV)
and heat recovery ventilators (HRV) to expand their product offering in these categories. HVAC Brain will now carry the full line of residential ERV and HRV products manufactured by Nu-Air, as well as a limited selection of light commercial equipment.
Established in 1992, Nu-Air is a family-owned and operated designer and manufacturer of HVAC equipment. Nu-Air invests in research and development in order to develop highly effective and energy efficient HVAC products for contractors, builders, property developers, and homeowners. In addition to aiding users in saving energy through the use of their products, Nu-Air is committed to conserving energy and reducing waste in their own operations.
Nu-Air's residential energy recovery ventilators and heat recovery ventilators meet ENERGY STAR® performance requirements. HRV/ERV residential models offer unique features and easy-to-use controls, as well as dependable performance that homeowners can count on. Light commercial HRV/ERV equipment is easy to install, and flexible to fit custom applications.
In various residential and commercial applications, Nu-Air energy recovery ventilators and heat recovery ventilators offer a variety of benefits, including:
Reduced operating costs
Smaller equipment footprint
Easy to integrate and install
To shop HVAC Brain's selection of Nu-Air energy recovery ventilators and heat recovery ventilators, please visit
http://www.hvacbrain.com/nu-air-s/1756.htm
.
Why shop at HVACbrain.com:
HVAC Brain, Inc. is a fast growing retailer of HVAC/R equipment and replacement parts. At HVACbrain.com, HVAC professionals and maintenance managers can find a wide variety of 'hand-picked' high quality HVAC products such as air conditioning units, actuators and valves, compressors, motors, and coils. With HVAC Brain's tight vendor relationships, customers can choose and order products without worrying about the quality of products HVAC Brain offers.
Contact Info: HVAC Brain, Inc. 9545 Midwest Avenue, Unit A - Cleveland, Ohio 44125, 216-663-4822,
info@hvacbrain.com
.