Little Trendsetter is Excited to Announce the Launch of Their Own Personal Clothing Line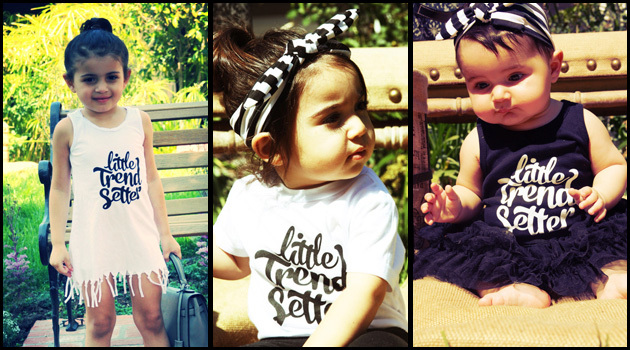 May 13, 2015 - Little Trendsetter's Online Kids Clothing Boutique is excited to announce the launch of its own personal clothing line. Their trendy and affordable line will include onesies for babies from 0-24 months old, as well as fashionable t-shirts up to 5T for toddlers. Little Trendsetter has been a leader in providing unique and fashionable kids clothing online for a variety of ages, and now can continue this trend by providing the most comfortable and fashionable styles with their own brand imprinted on them. Their first production line of onesies and t-shirts are perfect for kids looking for stylish pieces with summer around the corner, and are sure to get them noticed without breaking the bank.
When asked about the motivation behind creating their own line, co-founder Sahar Shahabi stated "Customers have asked for Little Trendsetter shirts so we designed a few essential pieces that their kids will look adorable wearing. Simple, affordable, clothing little boys and girls will love". The objective of creating clothes that are trendy, comfortable, and affordable fall in line with the purpose the founders of Little Trendsetter had when first opening their online store in June of 2013.
Their new Trendsetter collection can be found on their website's
Kid Clothes Online New Arrivals
section. Upon their April launch, for a limited time Little Trendsetter will be offering their Little Trendsetter t-shirt for free with any purchase over $50.
About Little Trendsetter
Based in the fashionable city of Los Angeles, Little Trendsetter is the premier children's online clothing boutique offering unique items of the latest trends.
Littletrendsetter.com
is a family owned business started by four moms in 2013 who were not happy with the selection of children clothing available out there. They stock all their inventory and typically ship within one business day. The products and selection found on their online boutique are continually updated to keep it unique, trendy, and stylish.