Ravencrest Publishing releases #childrensbook "Conference of the Birds" New Book by J Nicholas adds kid-friendly twist on a classic old tale!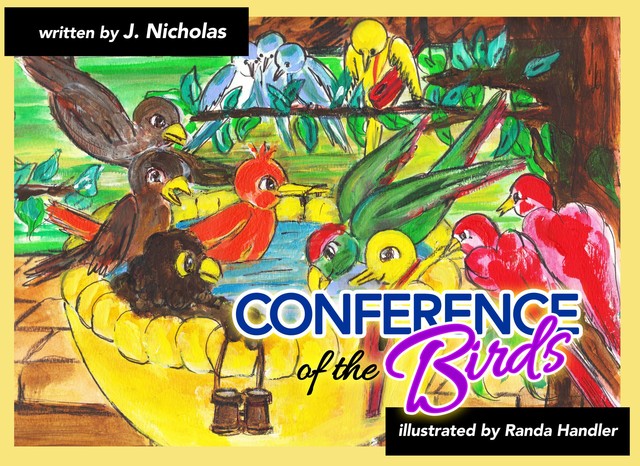 Los Angeles, CA - May 14, 2015 - Did you hear the busy chatter of the birds? What's the commotion about? Unhappy with who they are, five unlikely friends-a raven, a canary, an owl, a parrot, and a homing pigeon-embark on a long treacherous journey. Discover with them how they find strength in togetherness, gain a better appreciation of their own unique talents and a new sense of self-worth. Is there a more timely topic?
Sometimes history gives us the best premise and here a young author brings his own modern version of an ancient 12th century tale. J. Nicholas injects whimsical twists and laughter to captivate young readers (4-8) while staying true to the timely message of the story. Here's what some early reviewers are saying:
"Conference of the birds is not only delightful but has an important message about self-worth. Children will enjoy reading the reaction of the birds to a cryptic advice, how they interpreted it, their adventure, and how they solved their feeling that they should change." Dr. Israel Drazin, (Rabbi/attorney and top Amazon reviewer) "Delightful story and illustrations! The idea that we each can contribute something unique in this life is important for children to hear often and is related so well in this delightful story." Top 1000 reviewer
"Each bird from the owl to the canary to the homing pigeon have a trait or a skill that they are not as fond of. It takes a journey to discover how that part of them that seems flawed is actually useful or wonderful. My six-year old enjoyed the vibrant illustration colors and the theme of the story. It allowed us a moment to reflect on our own gifts and the gifts of those in our family." Posts educator Rachel Horon.
"I usually illustrate only my books but this is such a cute way to welcome Spring/Summer and learn to value our differences. Diversity in children's books is a mission of mine!" Shares Randa Handler
Summary: Unhappy with who they are, five birds-a raven, a canary, an owl, a parrot, and a homing pigeon-embark on a treacherous journey, eventually discovering strength in togetherness, the value of their own unique talents, and a new sense of self-worth. Give and spread appreciation of uniqueness and differences! Conference of the birds is available for download on
Kindle
,

">iBooks
,
Nook Books
, and in paperback on

">Amazon
.
Illustrator Randa Handler is an international journalist, publicist and publisher. See all of Randa Handler's #ChildrensBooks on Amazon and Barnes and Noble.
Contact Information: Julie Trent-657-212 5507
www.Ravencrestpublishing.com
Email Ravencrest Publishing, 4 Diverse Books