CinemaNow Announces First Streaming Video App For Apple Watch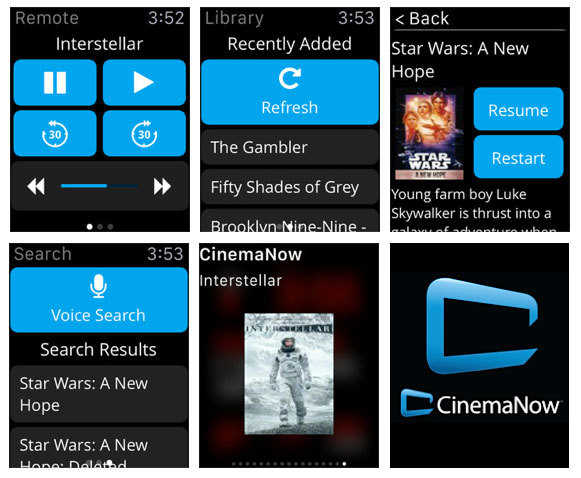 Los Angeles, CA – June 9, 2015
–
CinemaNow
announces the freedom to enjoy movies and TV entertainment anytime, anyplace with the launch of its streaming video app on Apple Watch.
"
CinemaNow
has garnered high praise. People love how easy it is to access all their movies and TV entertainment content from one simple platform," said Paul Zimny, Chief Technology Officer for
CinemaNow
. "Apple is an exceptional brand, and the new
CinemaNow
app for Apple Watch offers consumers a fantastic on-the-go viewing experience we know they'll love."
The demand for mobile entertainment is strong and growing.
CinemaNow
allows movie and TV lovers to download or stream their content when and where they want.
"We are pleased to offer an Apple Watch app that provides consumers with an easy and accessible way to enjoy their entertainment," said Greg Ferris, President of
CinemaNow
. "The new app allows our users to browse their collections of movies and TV shows directly on their wrist, search their collection using their voice, and use their Apple Watch as a remote when playing movies on their iPhone or TV using AirPlay or Chromecast." The
CinemaNow
app for Apple Watch is available now for download from the Apple® App Store™.
About CinemaNow
CinemaNow
is a pioneer in over-the-top (OTT) digital entertainment offering on-demand film and TV content from all major and independent studios.
CinemaNow
allows consumers to purchase, rent and view film and TV content from a world class catalog of over 55,000 titles with an average of 150 new titles added weekly.
CinemaNow
is available on over 105,000,000 devices and 350 different device models including Apple iOS, Android, Xbox, PlayStation, Roku, Chromecast, Samsung, LG, Sharp, Sony, Toshiba, Panasonic, Insignia, Philips, Oppo and others.
For more information, please visit
www.cinemanow.com
.