PRLeap Goes "Back to the Future" for Press Release Deals on Black Friday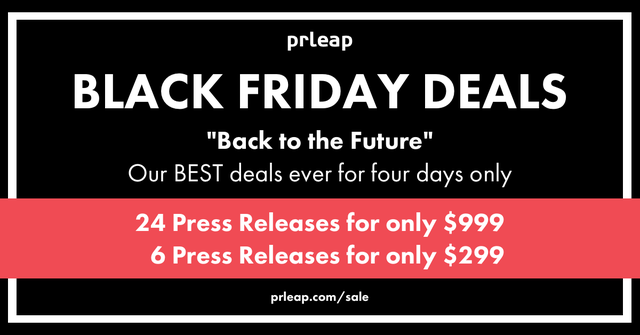 (PRLEAP.COM) November 27, 2015 - For this Black Friday, we're going "Back to the Future" to bring you two of our best deals on press release packages for four days only. The last time we offered these deals at PRLeap was back in 2013. Get your Black Friday deals at
prleap.com/sale
.
"Because Black Friday Deals are all about value and savings, we knew our holiday deals had to be extra special," said Mario Lozano, Co-Founder of PRLeap. "So we went 'Back to the Future' to bring our customers two of our best press release bundles ever."
Here are the details:
24 Press Releases for only $999 (worth $2376)
6 Press Releases for only $299 (worth $594)
Buy Now and Save!
And the best part is… you have one year to use your press releases.
We guarantee your press release will be picked up by 50+ online financial and media outlets, including Digital Journal.
Your press release will also be found in search so you can bring in customers from Google, Bing, Yahoo, and DuckDuckGo, and News aggregators like Google News, Bing News, Topix, and Moreover.
And here's an added feature: we support content providers like YouTube, Vimeo, Wisita, Kickstarter, Slideshare and Soundcloud. So you can use the power of visual storytelling to grab attention with video, photos, infographics, presentations, podcasts and more.
Your PRLeap press release also supports the latest social promotion tools, so you can amplify your content reach beyond your own audience on Facebook, Twitter, LinkedIn and more.
You get the picture. Everything you need to send better press releases.
Hurry this offer ends on Monday, November 30th. You don't want to miss it.
Click here to get your Black Friday Deal.
About PRLeap
Send better press releases with PRLeap. We give you all the tools you need to generate publicity for you business, so you can attract attention, get leads and ultimately grow your business. PRLeap is a press release distribution service.