Otherworld Cottage Industries Announces May 2nd Release for Travis Edward Pike's New Album, "Outside the Box"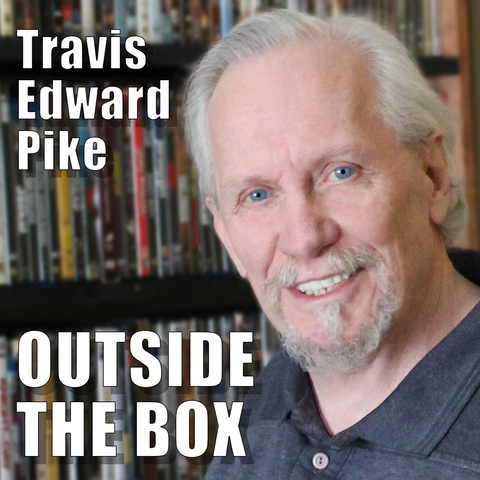 April 22, 2016 - Otherworld Cottage Industries is proud to announce the May 2, 2016 release of Travis Edward Pike's new and most eclectic album, "Outside the Box."
Travis originally planned to call this album "Odds and Endings," to tie in with his book, "Odd Tales and Wonders 1964 -1974 A Decade of Performance," the idea being that with this album, all the songs from his back catalog would finally be recorded, and he had successfully reached the "ending" of his effort to save them from oblivion. But he decided "ending" sounded too much like forever, and to finish this album, he'd just written and recorded several new songs. His "ending" had become a new beginning.
Late last year, as he and his brother, Adam, were finishing up the recordings, Travis decided to change the title to "Outside the Box," and he gave us three good reasons. One, he's not dead yet, so he's still outside that box. Two, all his songs, old and new, are now "out of the box," recorded, and available to the public. And three, he's never fit into a pre-defined genre that the major labels knew how to market, so as far as the recording industry is concerned, Travis has always been "Outside the Box."
In all fairness to those majors, we've discovered that marketing his work isn't easy. He composes across the entire spectrum of popular music. And he's 71-years-old – not exactly the demographic catered to by the music industry. But as Travis put it, "I had an itch to develop a niche, and now I have. I'm a singer-songwriter."
We can't argue with that, and one thing is certain. It's the niche in which he has definitely scratched a name for himself.
Author, journalist, and pop music historian
Harvey Kubernik's December 30, 2015, 7-part audio interview with Travis and his co-producer brother, Adam
, detailing Travis' music career, has been posted for broadcasters, podcasters, bloggers, and fans. (Part 6 actually gets into conversation about this new album.) The in-depth January 2016 Kubernik - Pike Pictorial Interview and the new, April 2016, Kubernik – Pike Pictorial Interview are both posted in the clickable pdf files attached below.
Email Otherworld Cottage Industries
Attachments