Blog Hands Publishes a Comprehensive eBook on Effective Blogging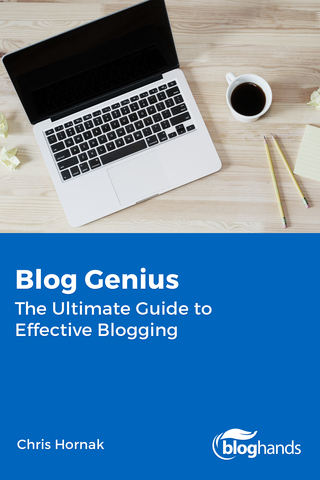 June 2, 2016 - Finally, a book has arrived that demystifies the widespread but misunderstood art of blogging. Whether for business, a charitable organization or an individual, blogging is one of the most powerful ways to reach an audience in the digital age.
Drawing on years of experience in web marketing, Chris Hornak, owner of blog writing service Blog Hands, has created a guide as profound and comprehensive as the subject of blogging itself. "I thought about every question I'd ever been asked about blogging and before I knew it I had so much content I knew I had to turn my answers into a book."
Everybody can blog, and sometimes it may seem as though everybody is blogging, but relatively few people are blogging well. 'Blog Genius' provides the definition of blogging well in more than 130 pages of sound advice that will change the way readers think about blogging and will explore the marketing myths that abound on the internet.
While 'Blog Genius' does not attempt to reinvent the wheel, it illustrates that blogging is a network of variable parts, an organic, growing, momentum-building machine that requires understanding, feeding… and someone who's been there hundreds of times before to show you how to make it work for you.
"Through blogging, you create content that fuels your social media marketing, email newsletters, advertising campaigns, SEO… it even helps your sales team close deals."
Attracting readers and keeping them coming back for more is at the heart of this work. Fifteen chapters cover the philosophy of why businesses and individuals should blog, how to choose from the vast array of blogging platforms, and how to precisely identify your audience, as well as the mechanics of creating blog posts such as how often businesses should post on their websites, what kind of content works best and how to turn the visitors you attract into paying customers who can't wait to tell their friends, family and colleagues about what you do.
"If you're not taking advantage of blogging already, now's the time to start building your knowledge."
'Blog Genius' retails on Amazon at $9.99 and is
available free for a limited time at BlogHands.com
.
About the Author
Chris Hornak has spent over a decade in web marketing. He was most recently the Director of Operations at a digital marketing agency where he directed marketing campaigns for hundreds of businesses. Before that, he provided SEO consulting for startups and small businesses.
He founded blog writing business Blog Hands following a simple observation: blogging is essential for virtually any digital marketing campaign, yet developing content on a consistent basis can be challenging. Via Blog Hands, he has developed blog strategies for hundreds of businesses around the globe.
Email http://bloghands.com/